Locations & Contact Info
Laboratory office professionals provide customer service:
Monday – Friday
7:00am to 4:30pm
3401 West Gore Blvd.
Lawton, OK 73505
(ph) 580.355.8699  ext 4101
There are two outpatient-drawing areas:
Tomlinson Medical Building
Located on the ground floor of the Tomlinson Medical Complex
3201 West Gore Blvd.
Lawton, OK 73505
Monday – Friday
8:00am – 12:30pm
Outpatient Center
Located on the ground floor of the Outpatient Center
110 NW 31st St.
Lawton, OK 73505
Monday – Thursday
6:00am – 6:00pm
Friday
6:00am – 5:00pm
Patients: please check in at the nearest registration desk before labwork.
The laboratory, accredited by the College of American Pathologists, performs a large variety of tests to assist physicians in the diagnosis, treatment and management of illness and disease.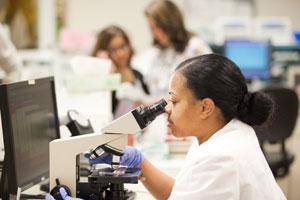 Registered Medical Technologists, technicians and phlebotomists, staff the laboratory 24 hours a day, seven days a week.
The laboratory sections include:
Microbiology
Serology
Blood Bank
Core Lab (comprised of Chemistry, Hematology and Urinalysis)
Histology (includes Surgical Pathology, Cytopathology and Immunohistochemistry)
The laboratory also serves as a hospital-based training program for the School of Medical Technology.  The School of Medical Technology is accredited by the National Accrediting Agency of Clinical Laboratory Science (NAACLS) and is one of only three programs in the state of Oklahoma.