2nd February Heart Healthy Luncheon and Risk Assessments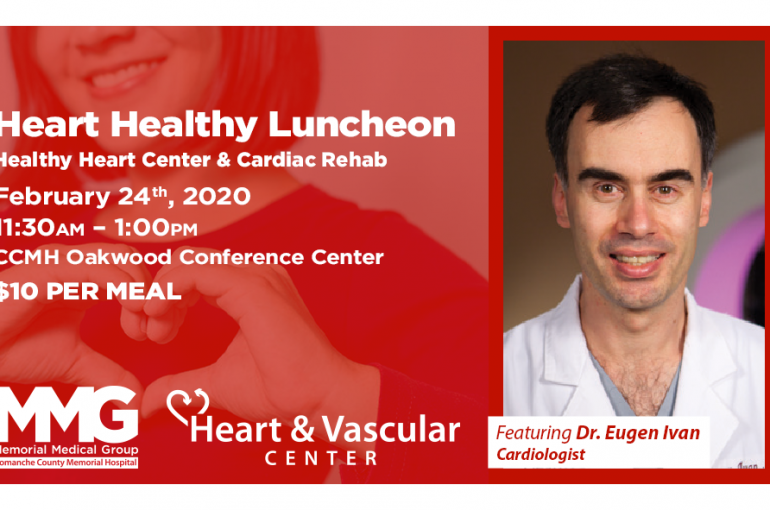 Heart Healthy Luncheon
Featuring Dr. Eugen Ivan, Cardiologist
Monday, February 24th, 2020 • 11:30am – 1:00pm
CCMH Oakwood Conference Center
$10 per meal
The Lunch & Learn will feature information on the Healthy Heart Center and how cardiac rehab can help you recover from a heart attack. Comanche County Memorial Hospital is the only comprehensive heart program in southwest Oklahoma and Oklahoma's First Primary Heart Attack Center!
Risk Assessments
Monday, February 24th, 2020 7:00am – 11:00am
CCMH Healthy Heart Center in the Outpatient Center
$20 per person
LIPID PANEL PROFILE
Includes: Total Cholesterol, LDL/HDL, Triglycerides and Hemoglobin A1C.
For best results, no eating or drinking 8 to 10 hours before blood draw. Morning medications may be taken with a small sip of water.
FREE Risk Assessment
Includes: Height & Weight, BMI and Blood Pressure.
Appointments required.
RSVP by Friday, February 21, by calling 580.585.5406 for Luncheon and Risk Assessments.