5 Benefits To Yoga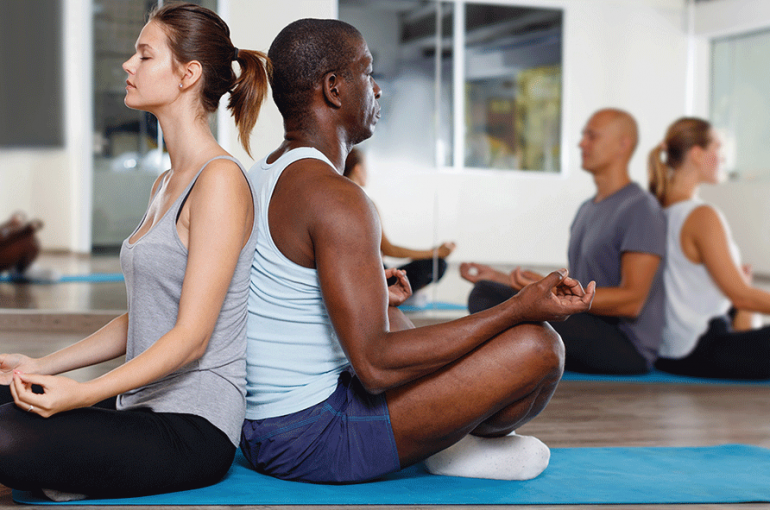 The Covid-19 pandemic has caused a lot of change in today's society. If the last year has caused mental stress and strain, or if you are recovering physically from illness, we may have a suggestion for you!  For some, participating in yoga and regular meditation exercises may be beneficial. While yoga does not and should not replace regular visits with your primary care physician or medical professionals, there are benefits to this activity.
What Is Yoga? 
Do you think of slow movements, meditation and balancing in awkward positions? Well, you'd be partially correct! 
Yoga was originally a spiritual practice in Indian philosophy. It's become more popular and modernized over the years, but some aspects have remained the same! There's a lot of emphasis on calming the mind, enhancing physical abilities and improving your overall wellbeing. 
Not sure if yoga's right for you? Here are 5 benefits to yoga!
5 Benefits of Yoga
Could Improve Mental Health & Relieve Stress 
Struggling with mental health doesn't mean you're failing or not trying. External pressures can cause a lot of strain, and sometimes performing basic self-care can't fix it all. 
In a 3-month study, women suffering from mental health struggles showed improvement in their mental well-being after 3 months of consistent yoga. In fact, some participants experienced a significant decrease in cortisol levels (or "stress hormones").
A consistent routine of simple stretching and breathing exercises may be what you need! 
Could Improve Muscle Strength
Eighty percent of Americans don't receive enough exercise to maintain their health. If you have a hard time with cardio exercises or exercising in gyms, yoga may be a great option for you! 
In a 12-week study, adults were found to have better muscular strength and endurance. The great part about yoga is you can do it anywhere at any time with little to no equipment. We suggest using a yoga mat and blocks to help with exercises! 

Could Improve Sleep Quality
If you have a hard time sleeping, yoga may be a great nighttime activity for you. Those observed in a 3-month study recorded an increase of melatonin levels. Melatonin is the chemical your body produces to tell your body it's time to sleep!
While this may not be recommended if you have medical issues that disrupt your sleep cycle, for most people it's an easy and simple activity to try. 
Could Reduce Chronic Migraine Pain
Chronic pain impacts an estimated 20% of American adults. While conventional care is important to maintain, especially if you've found care that works for you, including yoga can also help! When combined with conventional care methods, a study found that yoga therapy can show significant improvement to severity and frequency of migraines. 
Could Improve Breathing
Yoga bases a lot of its exercises on breathing and balance! For those suffering from asthma, this means a simple, easy way to stretch out their respiratory system. A study showed that intense breathing exercises found in some yoga practices led to significant lung function improvements. 
It's important to note that yoga should not replace any current medication or exercises prescribed by your primary care physician. Yoga should always be used in conjunction with your normal medical care. 
While yoga could be a great way for you to decrease stress and improve sleep quality, if you have any serious health conditions, seek medical attention. Comanche County Memorial Hospital's trained team of medical experts would love help. Use our Find A Provider tool to find the right medical professional for you and your needs. 
Disclaimer
The Comanche County Memorial Hospital website does not provide specific medical advice for individual cases. Comanche County Memorial Hospital does not endorse any medical or professional services obtained through information provided on this site, articles on the site or any links on this site.
Use of the information obtained by the Comanche County Memorial Hospital website does not replace medical advice given by a qualified medical provider to meet the medical needs of our readers or others.
While content is frequently updated, medical information changes quickly. Information may be out of date, and/or contain inaccuracies or typographical errors. For questions or concerns, please contact us at contact@ccmhhealth.com. 
Sources: 
CDC. 
https://www.cdc.gov/mmwr/volumes/67/wr/mm6736a2.htm 
Cleveland Clinic. 
https://health.clevelandclinic.org/80-of-americans-dont-get-enough-exercise-and-heres-how-much-you-actually-need/ 
NCBI. 
https://www.ncbi.nlm.nih.gov/pmc/articles/PMC4475706/ 
https://www.ncbi.nlm.nih.gov/pmc/articles/PMC3017963/ 
NCCIH. 
https://www.nccih.nih.gov/health/yoga-what-you-need-to-know
PubMed. 
https://pubmed.ncbi.nlm.nih.gov/16319785/ 
https://pubmed.ncbi.nlm.nih.gov/25035622/