Above & Beyond – Labor of Love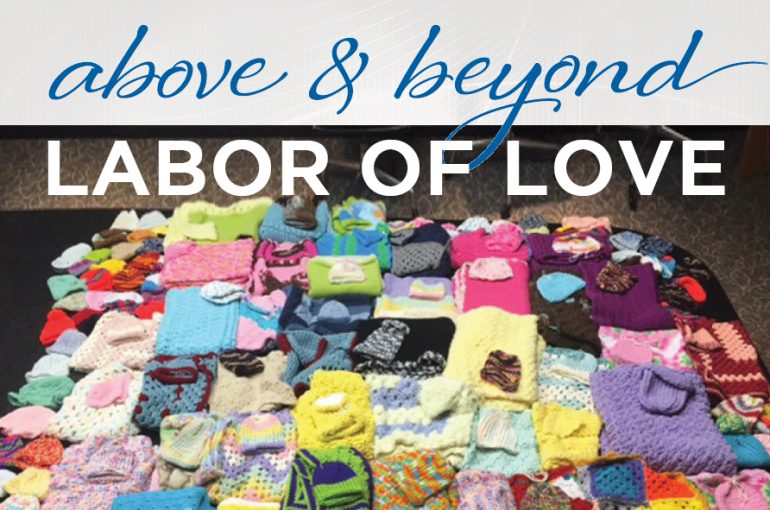 A donation of 48 sets of hand crocheted baby blankets and matching hats, and 80 crocheted baby hats were donated to the CCMH Neonatal Intensive Care Unite on Thursday, July 14 from a local group. The Book n Hookers is a group from Elgin that gets together every Saturday at the Elgin Library to crochet together and read. Their goal is to share their hobby, for the joy and benefit of others. In the past, they have donated lap quilts for cancer patients at the Cancer Centers of Southwest Oklahoma and are now working on lap blankets for residents of the Lawton Veterans Center.
Cindi Tracy, a member of the Book n Hookers brought the donation for the group, and said that she and six other ladies crocheted all of the items over the course of 5 months. "This was a labor of love for us to be able to provide a  and-crocheted item for these sick children to provide something home-made to show that someone cares". Tracy went on to say that "This was a true community project. Most of the group members live in Elgin, but two are from Fletcher, and yarn and materials were donated by people from all over for them to use to make the baby items".
We would like to give special thanks to the Book n Hookers members who made and donated the crocheted baby blankets and hats to donate to NICU babies:
Laura Barrett
Peggy Beigler
Leslie Durham
Michelle Duvall
Grant Long
Cindi Tracy
CCMH opened the areas first and only Neonatal Intensive Care Unit in July 2013. Over the last three years, the unit has treated about 300 premature and sick infants annually who would have otherwise been
transferred to Oklahoma City for lifesaving care.