Alcohol and Heart Disease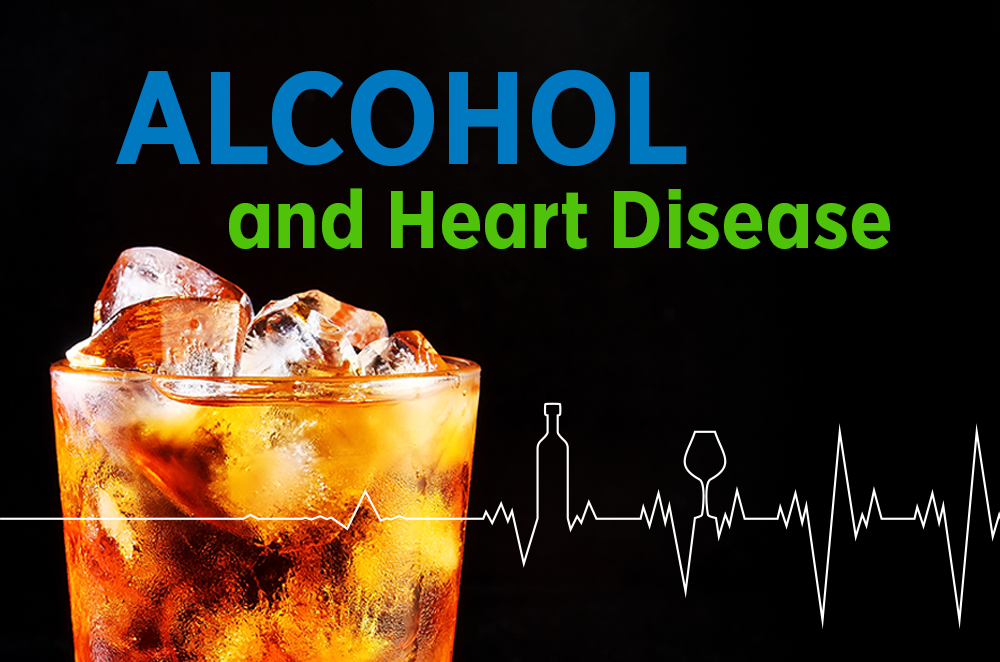 Alcohol and Heart Disease
Every year, the month of April is dedicated to raising awareness of alcohol misuse or abuse. The National Institute on Alcohol Abuse and Alcoholism works to educate the public on the impact that alcohol has on health. This month, we are focusing on how alcohol consumption increases the risk of heart disease.
Life is meant to be enjoyed! Part of life's celebrations can include alcohol. For some, alcohol can be a gratifying way to unwind from a stressful day, whether a round of drinks with friends after work or a glass of wine in the evening. However, drinking too much alcohol can affect the risk of heart disease. 
How is Alcohol Digested?
Alcohol isn't digested like other foods and beverages. It is metabolized by several pathways in the body. The cardiovascular system consists of the heart and its blood vessels which pump blood around the body. The blood then delivers nutrients and any other materials to the rest of the body. This includes alcohol which is then absorbed directly into the bloodstream.
How Alcohol Affects the Heart
Alcohol can significantly impact the cardiovascular system. Alcohol consumption can cause a temporary increase in heart rate and blood pressure. Excess drinking can lead to ongoing:
Increased heart rate

High blood pressure

Weakened heart muscle

Irregular heartbeat
Complex Effect of Alcohol
Alcohol can also have complex effects on cardiovascular health like heart attacks and stroke. Heavy or binge drinking causes a level of toxic substances in the blood. These toxins increase the risk of cardiovascular damage which ultimately increases the chance of a heart attack or stroke.
Alcohol in Moderation
According to the Dietary Guidelines for Americans, it is recommended that alcohol is consumed in moderation. Two drinks or less per day is recommended for men and one drink or less per day is recommended for women.
A "standard drink" is defined as:
12 ounces of beer
8 ounces of malt liquor
5 ounces of wine
1.5 ounces of distilled spirits or liquor
Yes, alcohol is meant to be enjoyed in moderation, but make sure you remember your health and safety too! Remember to always drink responsibly. If you or someone you know is struggling with addiction, call CCMH at (580) 250-6650 for a confidential assessment. Click https://www.ccmhhealth.com/behavioral-health-services/ to be connected with behavioral health services at CCMH.
Resources:
https://alcoholthinkagain.com.au/alcohol-your-health/alcohol-and-long-term-health/alcohol-and-cardiovascular-disease/
https://www.dietaryguidelines.gov/sites/default/files/2020-12/Dietary_Guidelines_for_Americans_2020-2025.pdf 
https://www.cdc.gov/alcohol/fact-sheets/moderate-drinking.htm
Disclaimer
The Comanche County Memorial Hospital website does not provide specific medical advice for individual cases. Comanche County Memorial Hospital does not endorse any medical or professional services obtained through information provided on this site, articles on the site or any links on this site.
Use of the information obtained by the Comanche County Memorial Hospital website does not replace medical advice given by a qualified medical provider to meet the medical needs of our readers or others.
While content is frequently updated, medical information changes quickly. Information may be out of date, and/or contain inaccuracies or typographical errors. For questions or concerns, please contact us at contact@ccmhhealth.com.