Arvest Foundation makes $20,000 Donation to CCMH Foundation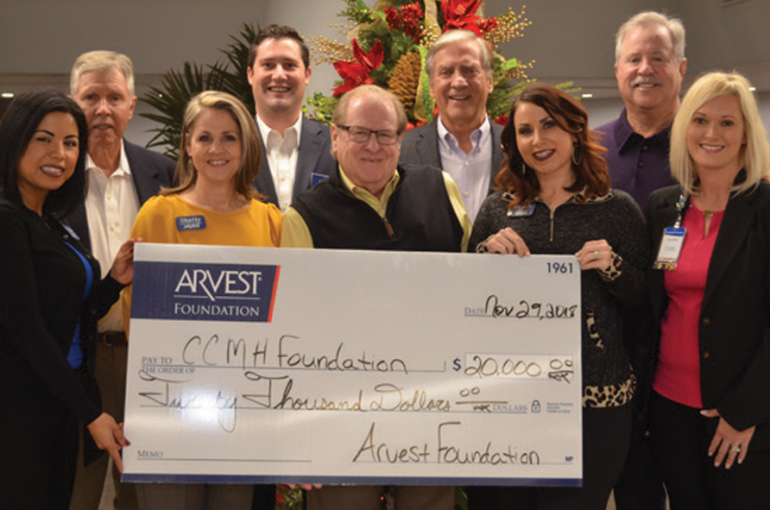 Recently, The Arvest Foundation donated $20,000 to the Comanche County Memorial Hospital Foundation. The generous funds will benefit the hospital's Starlight Unit which is dedicated to providing quality healthcare to children. The donation will help replace old cribs with newer, more comfortable ones, purchase a pediatric vein finder and a TC Bilirubin meter, a tool that scans babies' foreheads to check for jaundice.
"We are just so thankful for community partners like Arvest and Classic Lawton Chevrolet and the incredible support they give to our community hospital," CCMH Foundation Director Lee Ann Chandler said. "It will be used to fund equipment in our Starlight Unit, which would otherwise probably go unfunded.
"Comanche County Memorial Hospital and the foundation which supports it, are of vital importance to our community," David Madigan, President and CEO of Arvest Bank Southwest Oklahoma said. "Making sure our children have the best care possible is key when they are at their most vulnerable. It is an honor to be part of such a significant endeavor."
Last month, Classic Lawton Chevrolet and owners Ervin and Bridget Randle presented a check in the amount of $10,000 to the CCMH Foundation to benefit the Children's Starlight Fund. This gift came from the proceeds of the Annual Classic Golf Tournament held in September of this year. Thank you to the Randle's and their committee for being champions for CCMH and the community!