Avoiding Bloat this Holiday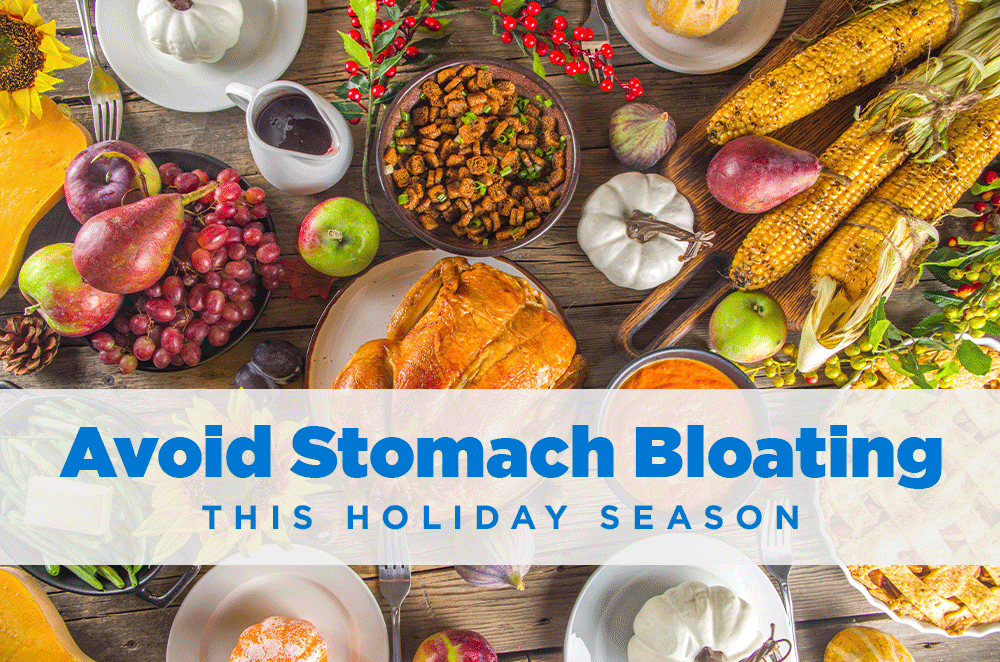 Avoiding Bloat this Holiday
Thanksgiving is just around the corner and for a lot of families, this means food, food, and more food! Whether your holiday meal includes buttery mashed potatoes, green bean casserole, or homemade dinner rolls, your body may react to the foods you choose to consume. This holiday season, take action against stomach bloat by knowing the cause of it and discovering what works best for you to control it. 
What causes bloating
According to the Cleveland Clinic, bloating that is related to your digestive processes is caused by a build-up of intestinal gas from either eating too much too fast or from intolerance to a certain kind of food. There are other conditions that may cause bloating such as menstruation and functional digestive disorders such as Irritable Bowel Syndrome. 
Foods that Trigger Bloat
Every person's body reacts to food differently. While some may be unaffected by certain foods, others may experience bloating or other reactions such as allergic reactions. Some of the most common foods that can trigger bloating are: 
Wheat

Carbonated Beverages 

Broccoli and other cruciferous vegetables (cauliflower, Brussel sprouts) 

Dairy products
When it comes to our Thanksgiving or holiday meals, a lot of these triggers can be found in staple dishes such as wheat in stuffing, and the vegetables in your side dishes. Knowing what causes your stomach to bloat is a key way to control the bloat. 
How to Control Stomach Bloat
Though the root cause of stomach bloat can be many different things, knowing what causes your stomach to bloat is the first step to controlling your stomach bloat. Other ways that may help are: 
Don't be inconsistent with eating before a big meal – Oftentimes, many people will put off eating throughout the day if they know a big meal is coming up in the evening. This can cause you to overeat and eat too quickly when it's mealtime. Instead, stay on a normal eating schedule with properly portioned breakfasts and lunches. 

Replace your trigger foods – while wheat is a major trigger food, you can substitute wheat with other gluten-free options. Additionally, you can opt out of carbonated beverages and drink water! 

Limit your alcohol intake – Alcohol is a large contributor to bloating. Even though we use the holidays as a time to celebrate, limiting your alcohol consumption is always a wise choice. 
More Serious Conditions
While most people that experience temporary bloating, there are some who may experience it more frequently and it may be accompanied by abdominal pain. If you are noticing a bloated stomach more than usual, it is painful, or it is not resolving, you may need to reach out to your doctor as it can be an indication of a more serious condition. 
Resources: 
https://www.healthline.com/health-news/5-ways-to-feel-less-bloated-after-big-holiday-meals#4.-Add-leafy-greensto-your-plate
https://my.clevelandclinic.org/health/symptoms/21740-bloated-stomach#:~:text=The%20most%20common%20cause%20of,digestive%20contents%20to%20build%20up.
https://www.healthline.com/nutrition/13-foods-that-cause-bloating#dairy
The Comanche County Memorial Hospital website does not provide specific medical advice for individual cases. Comanche County Memorial Hospital does not endorse any medical or professional services obtained through information provided on this site, articles on the site or any links on this site.
Use of the information obtained by the Comanche County Memorial Hospital website does not replace medical advice given by a qualified medical provider to meet the medical needs of our readers or others.
While content is frequently updated, medical information changes quickly. Information may be out of date, and/or contain inaccuracies or typographical errors. For questions or concerns, please contact us at contact@ccmhhealth.com.