Bone Health and Osteoporosis for Women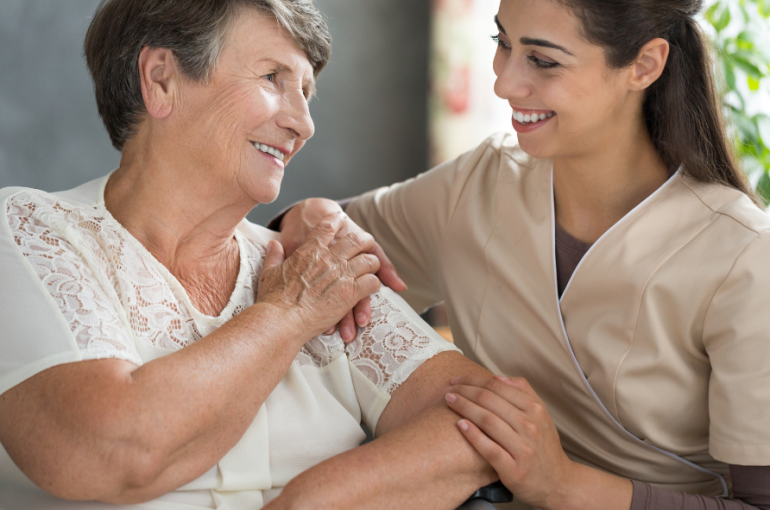 With cooler temperatures settling in for the winter, it's common for people with osteoporosis to experience more severe pain than in warmer months. 
Osteoporosis is a silent, progressive disease characterized by low bone mass and deterioration of bone tissue, which can lead to increased risk of fracture. A lifestyle with nutritious food choices and exercise can help keep bones healthy. Because osteoporosis is caused by multiple factors, it's important to be aware of them in order to stay strong and have healthy bones.
These factors can help reduce your risk of osteoporosis if you are able to implement them into your daily routine. 
Nutrition
A healthy and nutritious diet can reduce the risk of osteoporosis later in life. People are encouraged to focus on healthy, natural foods like organic fruit and vegetables as well as grass-fed and/or lean meats such as grass-fed beef or chicken and fish. It is also imperative to consume your daily recommended vitamins and minerals to enrich your bones. Doctor's recommend refraining from consuming excess alcohol and smoking.
Exercises for Healthy Bones
Moving your body and strengthening your muscles around your bones can help reduce the risk of osteoporosis. Experts recommend the following activities and frequencies:
Strength Training including weight lifting and plyometrics

Frequency: At least 2 days/week

Balance Exercises such as Tai Chi, dancing, walking on your toes or heels

Posture Awareness while sitting, walking, and standing

Aerobic Physical Activity of 10 minutes or more where you have a raised heart rate and heavy breathing but not completely exhausted.

Frequency: At least 150 mins/week
Vitamins and Calcium
It is crucial for healthy bones to consume enough vitamin C and Calcium in your diet. This can include foods like cheese, yogurt, milk, seeds, whey protein and lentils. Vitamin D helps absorb calcium, helping build stronger bones. It also improves muscle functions and increases your balance. This leads to a decrease in the likelihood of falls, which can lead to fractures.
Doctors recommended daily intake of Calcium for individuals aged 19 to 50 is 1000 mg. They also recommend 400 – 1000 IU of Vitamin D. Individuals age 50+ should aim for 1200 mg of Calcium and 800 – 2000 IU of Vitamin D. 
Bone Density Services
Bone Density services, or Bone densitometry, include a safe, rapid, and painless exam that can help physicians diagnose and manage osteoporosis. These exams measure the mineral content of bones, changes in bone density, effects of therapy, as well as provide physicians and their patients with an accurate picture of future risks.
Living with the Disease
People can feel scared and alone upon an osteoporosis diagnosis. It's important to remember that you are not alone and there are many treatments to help ease pain and risk of bone fractures. Sometimes it is even possible to regain bone mass after diagnosis. Contact us by calling 580.250.5800 if you are interested in scheduling a bone densitometry appointment. Our team of specialists are here to help you through the process of your treatment options.
Disclaimer:
The Comanche County Memorial Hospital website does not provide specific medical advice for individual cases. Comanche County Memorial Hospital does not endorse any services obtained through information provided on this site, articles on the site or any links on this site.
Use of the information obtained by the Comanche County Memorial Hospital website does not replace medical advice given by a qualified medical provider to meet the medical needs of our readers or others.
While content is frequently updated, medical information changes quickly. Information may be out of date, and/or contain inaccuracies or typographical errors. For questions or concerns, please contact us at contact@ccmhhealth.com.
Sources: 
Osteperosis.ca:
https://osteoporosis.ca/bone-health-osteoporosis/calcium-and-vitamin-d/
CCMH: https://www.ccmhhealth.com/womens-health/womens-imaging/bone-density-services/
Mayo Clinic: https://www.mayoclinic.org/diseases-conditions/osteoporosis/diagnosis-treatment/drc-20351974
Healthline: https://www.healthline.com/nutrition/15-calcium-rich-foods