CCMH and Great Plains Technology Center Recognized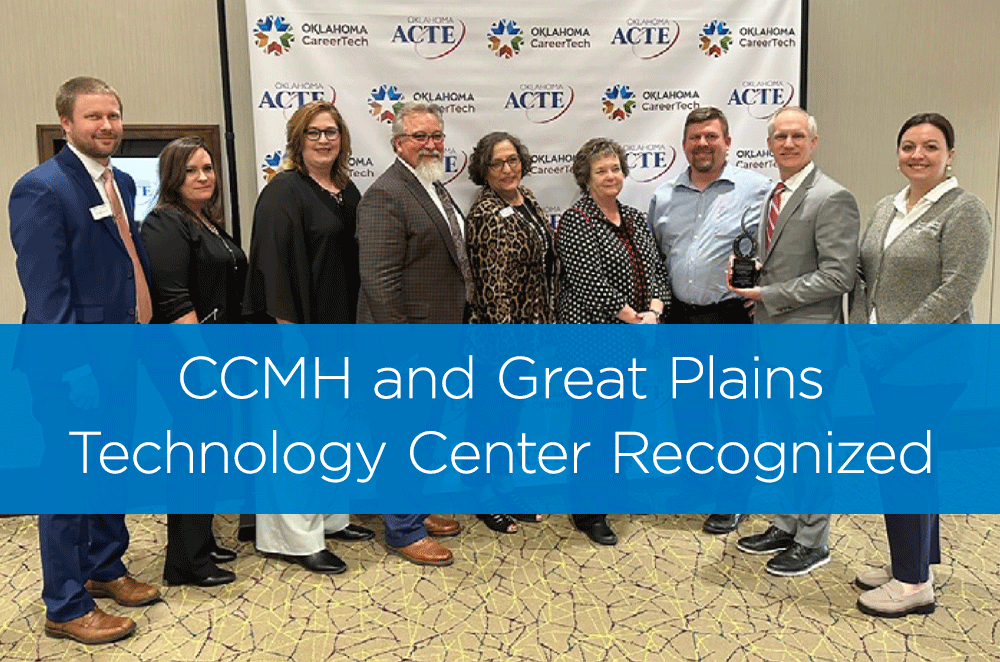 On February 21, 2023, The Oklahoma Association for Career and Technical Education (Oklahoma ACTE) highlighted the current business partnership between Comanche County Memorial Hospital (CCMH) and The Great Plains Technology Center (GPTC) during the 2023 Partners in Progress Program in Edmond, Oklahoma.
CCMH and GPTC staff worked together in 2021 to identify training content that they believed their new hires needed to learn so they could be successful. GPTC found they were already teaching many of these topics in other classes or as stand-alone evening classes. They worked to customize a course and curriculum that fit the needs of CCMH employees, the Clinical Medical Technician Program (CMT). As of the award date, CCMH and GTPC have successfully graduated three classes of students totaling 32 now employees trained to work in the physician offices of Lawton Community Health Center and Memorial Medical Group.
The two partners are now working together to find other opportunities to support careers in the medical field. Taylor Farmer, CCMH Human Resources Director, says "The best part is the willingness and collaborative work with Great Plains to create a curriculum for the medical personnel shortage in our community." The commitment from both organizations to continuous improvement has led to a pipeline of skilled workers with strong career potential and the training necessary to provide excellent healthcare to the community.