Comanche County Memorial Hospital Foundation announces major donation to new regional emergency center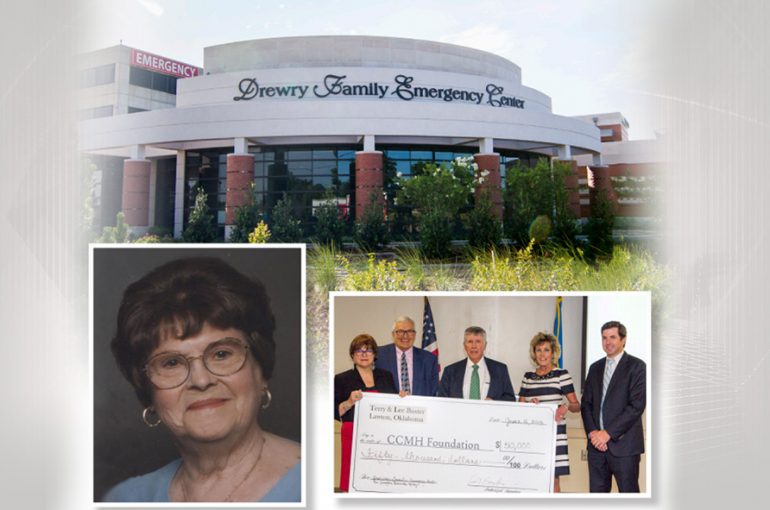 Lawton, OK (June 16, 2016) – Comanche County Memorial Hospital (CCMH) was pleased today to receive a generous donation to the CCMH Foundation for construction of the hospital's new regional Drewry Family Emergency Center.
A check in the amount of $50,000 was presented to the Comanche County Memorial Hospital Foundation by Terry and MG(R) Lee Baxter in memory of Mrs. Josephine Giannella, the late mother and mother-in-law of Terry and Lee Baxter.  The lobby of the new Drewry Family Emergency Center will bear her name to honor her memory per the family's request.
Brent Smith, Chief Executive Officer of CCMH stated "We are sincerely grateful to Terry and Lee Baxter for their generous donation to support the hospital.  As the regional referral center for Southwest Oklahoma, CCMH operates one of the busiest Emergency Departments in the state, providing approximately 55,000 visits annually.  The Baxter's are well-known for their contributions to the community and the fact that they have chosen to make this donation on behalf of Mrs. Josephine Giannella is a wonderful way to pay tribute to a life well-lived".
MG(R) Lee Baxter said "Through the years Josephine spent in Oklahoma, her medical needs were met by the caring staff of CCMH. We always felt comfort in the fact that the medical staff that tended to Josephine were thoughtful, compassionate and kind. We feel a great way to memorialize her is through supporting the CCMH growth that can further care for many families and their loved ones".
ABOUT MRS. JOSEPHINE GIANNELLA

Josephine Rossi Giannella, was the mother of Theresa Marie (Terry) Giannella Baxter and mother-in-law of the former Fort Sill Commanding General Major General Lee Baxter.  She was born in Italy in 1920 and immigrated to America when she was 15 years old, where she was reunited with her father and other family members in New Haven, CT.  At age 17, she married her life-long love, Mario, also an emigrant from her hometown.  They settled in Paterson, NJ where the family established the Giannella Baking Company, which flourished into a leading Italian Bakery in New Jersey and New York.
Despite little knowledge of the English language, the Giannella's achieved the "American Dream" in every sense.  They were true American Patriots.  Josephine was integral to the success of the family business, while devoting herself to raising three successful children:  Terry, a speech-language pathologist; Ralph, a Medical Doctor and Mario, Jr., a physicist within the U.S. National Laboratory System.  While Josephine and Mario had little formal education, the Giannella's appreciation for education is reflected in the accomplishments of their children.
Josephine was smart, of strong character and values, was witty and possessed a delightful Italian accent.  After her husband's death in 1980, Josephine single-handedly owned and managed her own business, the M. Giannella Delicatessen in Westwood, NJ.  She was an astute businesswoman, and a loving grandmother and great-grandmother.
In 2004, Mrs. Giannella relocated to Lawton, OK to join her daughter.  Over a period of seven years, she was frequently treated in the Emergency Department at Comanche County Memorial Hospital.  A gift, in Memory of the beautiful life of Mrs. Josephine Giannella, was made to show appreciation to those who cared for her so well, until she perished at the age of 91 on January 17, 2012.
The Ribbon Cutting for Phase I of the Drewry Family Emergency Center will occur on Tuesday, June 28 at 2 pm in the new center.  Phase II, consisting of the renovation of the existing CCMH Emergency Department is scheduled to be completed and open to serve patients by the end of 2016.
COMANCHE COUNTY MEMORIAL HOSPITAL DREWRY FAMILY EMERGENCY CENTER OVERVIEW
In January, 2014, Comanche County Memorial Hospital broke ground on construction of a new state-of-the-art Emergency Center located on the southwest corner of the hospital's existing building.  The project includes 28,924 square feet of new construction, and the renovation of 11,218 square feet of the Emergency Department originally constructed in 1984, bringing the new center to 40,142 square feet of usable space with an additional 3,715 square feet of shelled space to accommodate anticipated future growth.  The new construction is slated to be complete in June, 2016 with the renovation of the existing area finalized by the end of the year.
The new Drewry Family Emergency Center will increase the number of treatment rooms by 12 to include two new Level 3 Trauma Rooms, state-of-the-art diagnostic imaging, designated specialty treatment rooms for obstetrical and psychiatric patients and a rooftop Heliport landing pad.  The center has been designed with modern design efficiencies in conjunction with input from the physicians and staff of CCMH Emergency Services.  The current CCMH Emergency Department provides about 55,000 patient visits annually making it one of the busiest Emergency Departments in Oklahoma.
Drewry Family Emergency Center Facts:
43,875 total square feet of new and renovated space

28,924 square feet of new floor space
11,218 square feet of renovated space
3,715 square feet of shelled in space for future growth

38 total treatment rooms, including 12 new

2 triage rooms
13 minor care treatment rooms
23 emergent care treatment rooms to include:

10 general emergent treatment rooms
5 Level 3 trauma rooms
4 isolation treatment rooms
2 behavioral health/psychiatric treatment rooms
2 OB/GYN exam/treatment rooms

On-site dedicated advanced diagnostic imaging to include:

X-ray
Computerized Tomography (CT)

Rooftop Heliport landing pad
Emergency Services (EMT) and Police workroom
Family consultation/bereavement room
Patient viewing room