CCMH Graduates Med Tech Students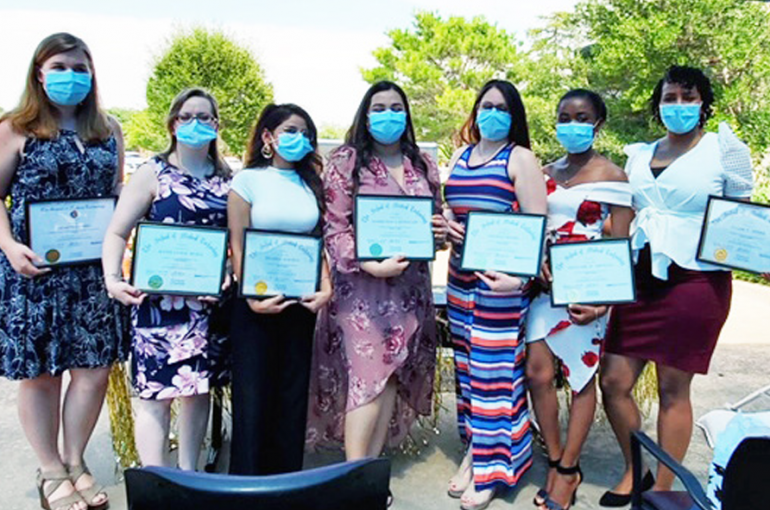 The CCMH School of Medical Technology graduated 6 Medical Laboratory Scientists (MLS) and 1 Chemistry Technologist from its 2019-2020 class on July 10, 2020. The Graduation Ceremony was held in the Outside Employee Lounge Area and was hosted by Program Director Stacey Paryag-Stevens. The 2020 class is the largest graduating class since 2009.
Lizabeth Landoll, Chemistry Technologist graduate, is the first student to complete the Structured Technologist program (13 weeks) with the CCMH MT School. The graduates remained committed to their training even during this COVID-19 crisis and we are so proud of their success!
13 awards were presented to the students. Samikchhya Humagain was awarded "Labodoodle Award" for best overall performance. Graduates voted on and presented the "Teaching Tech of the Year Award" to Susan Pustejovskey; DeAngela McClain was the "Do It Well Award" winner.
Special thanks to Toni Brite, Dr. Robbie Graham, Jamie Kendall, Toluwalope Adeyemi, and Stacey Paryag-Stevens, for presenting during the ceremony and thank you to Engineering, Dietary, Housekeeping, Luis Mendes, Christy Tate and DeAngela McClain for helping with the preparation and set-up of the ceremony.
All 7 graduates are remaining at CCMH to work in the Laboratory Department as Medical Technologists and we are thrilled to have them as co-workers.
The MT School has a 100% graduation rate, placement rate, and ASCP certification passrate over the past 3 years and successfully meets NAACLS accreditation standards. Thank you to the CCMH Administration, the MT School Advisory Committee, and the Faculty members for all that you do for the MT program. You are greatly appreciated!
The program's new 2020-2021 MT class will begin its 51 weeks long training on July 20, 2020 with 7 MLS students and 1 Hematology Technologist student (15 weeks). For more information about the School of Medical Technology, please visit www.ccmhmtschool.org