CCMH Wound Care & an Exceptional Nurse Earn Awards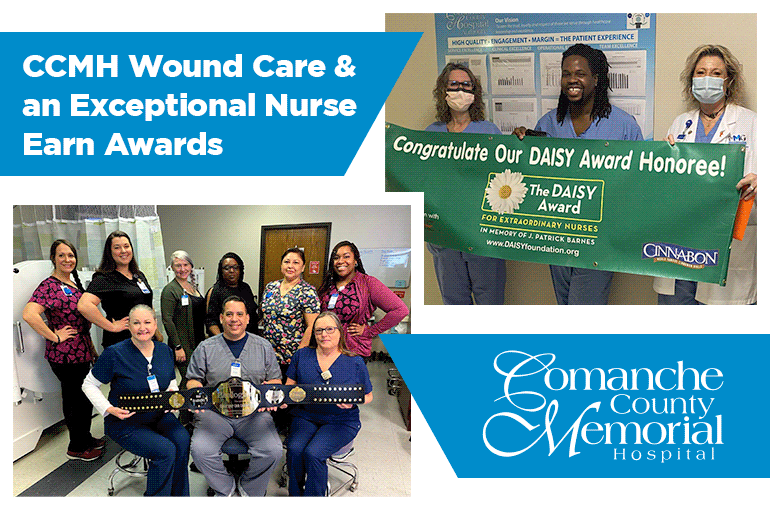 CCMH Wound Care Earns Regional Award
The CCMH Center for Wound Care and Hyperbaric Medicine was recognized by Healogics for the West region's highest wound healing rate out of 110 centers. Seventy nine percent of our patients are healed within an average of twenty eight days.
The "CHR Healing Champs" award represents a well-managed, process-driven, evidence-based wound care center with high-quality outcomes for patients with chronic/acute wounds. The Wound Care Center recognizes that this high healing rate in a high acuity patient population would not be possible without the excellent care from other CCMH Teams such as Cardiology, General Surgery, Podiatry, Cardiothoracic Surgery, and other diagnostic services.
Quinton Anderson, RN – Daisy Award Winner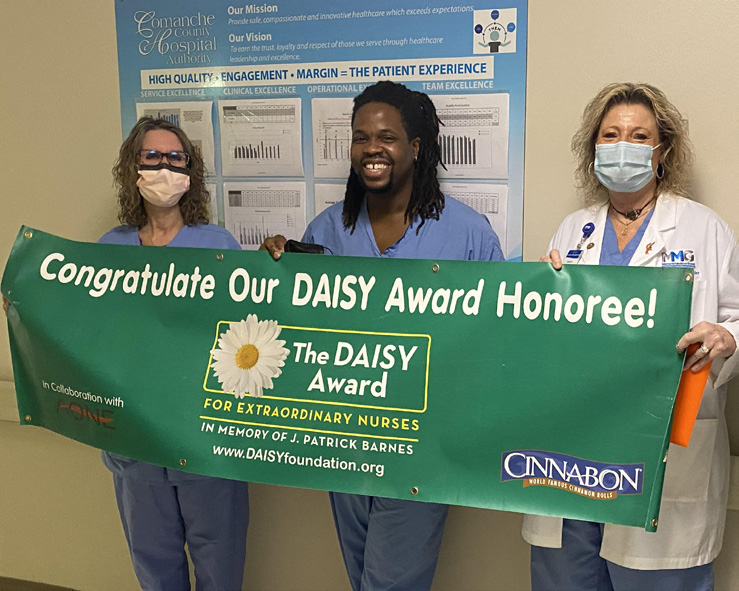 The CARE team would like to recognize Quinton Anderson, RN for being an exceptional nurse and employee here at CCMH.
Nominated by Liz Roloff and Teresa Fletcher, Quinton is a Cath Lab RN and has consistently gone above and beyond his job duties and expectations. They sent us the following story about Quinton.
"The last year has been challenging for everyone due to the COVID pandemic and the Cath lab had their share of struggles. At one point, they had four out of their five RN's out due to illness, which put Quinton as the only RN left to cover day shift, call at night and the weekends. He took the responsibility with a smile on his face. No matter what the weekend before, the week during or the weekend after presented, he continued to have a positive attitude, a caring heart and a smile.
"He never complained or showed any discontent to the patients or staff. Quinton has always, without any hesitation, stayed late to help out his peers when needed. Quinton has volunteered to become a McKesson Cardiology Superuser for the cath lab. This allows us to have two RN's available for updates, training, troubleshooting, documenting and editing in the system. This was an additional job duty that he took on without hesitation.
"Quinton has an ambitious drive to learn and excel in anything he does. His ambition, positive attitude, mentoring and precise nursing skills are an added quality for our new RN's that are oriented and mentored by him. We are so fortunate and thankful to have Quinton as part of our team in the cath lab and at CCMH. His caring smile and laugh are infectious. With everything he brings to us daily in his work and dedication, we believe Quinton Anderson is deserving recognition.
"When Quinton's name was brought up members of the CARE team echoed the same sentiments. Quinton is always ready with a smile, happy to help, and is known for his great team work and dedication to excellent patient care."
We are happy and proud to present Quinton with the Daisy award. Thank you Quinton for all of your hard work and for being part of our CCMH team.