Cesarean Awareness Month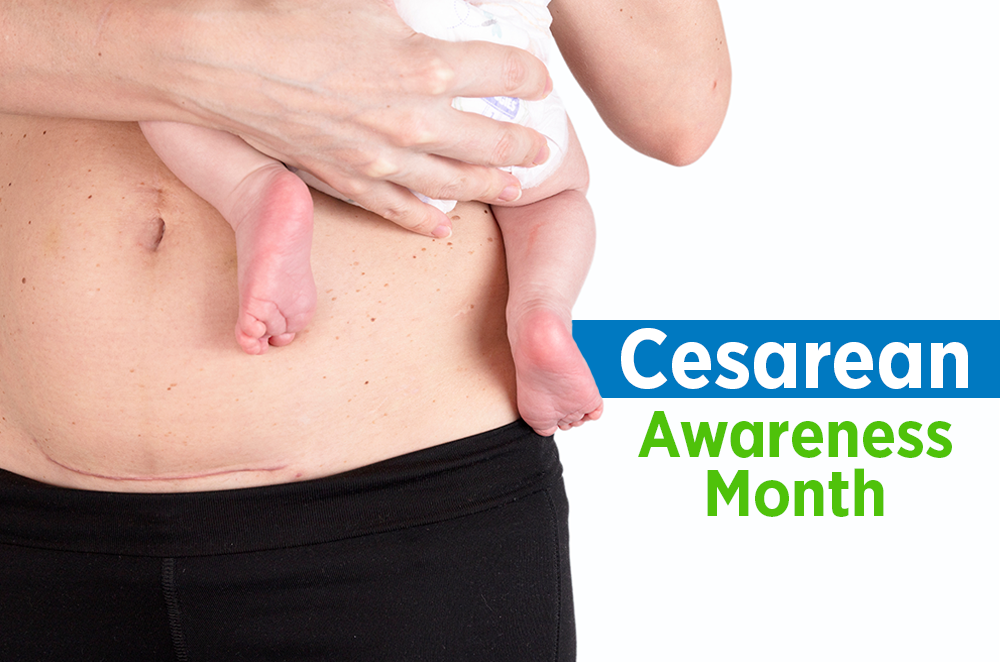 Cesarean Awareness Month
When it comes to childbirth, there are many factors that contribute to the method by which a baby is delivered. What can be a time of excitement and joy, can also be a time of uncertainty and fear when the term "Cesarean" is brought into the mix. This month, during Cesarean Awareness Month, we will inform and educate parents and those who support parents on what it means to have and recover from a Cesarean section procedure! 
What is a Cesarean Section? 
A cesarean section, otherwise known as a C-section, is a method of delivering a baby by making an incision in the mother's abdomen and uterus. Doctors determine if a cesarean section is necessary when the mother, baby, or both are at an increased health risk during delivery. 
According to the National Accreta Foundation, an organization that brings awareness to the Placenta Accreta Spectrum, 1 out of 3 births in the United States were C-section deliveries.
Candidates for C-Sections
There are numerous reasons why a doctor may resort to delivery via c-section which include: 
Abnormalities in baby's heart rate

The baby's position during labor 

The overall health condition of the mother (diabetes, high blood pressure, etc.) 

Labor is failing to progress

Twins or multiples

A previous c-section delivery
When it comes to deciding whether or not to perform a C-section, it can be either an emergency or a planned procedure. Be sure to have a conversation with your OB and medical professionals that know your plans to ensure the best decision is made for you! 
Healing From a C-Section
Because a C-section is a major surgical procedure, you will be sent home with detailed instructions on how to care for your healing incision. Some key takeaways when healing includes:
Don't lift anything heavier than your baby for 6-8 weeks.

Don't submerge yourself in water like a bath.

Follow your doctor's instructions when it comes to wound care and medication.

Listen to your body when it is tired. 
How to Show Support
If you are the spouse or loved one of someone who has just had a cesarean procedure, you can show your support for their healing in a few ways. It starts by understanding what it is that your loved one has gone through. When you fully understand the procedure, risks, and steps for recovery, then you can understand how to best help during this time. 
Other ways you can support is by: 
Taking on any tasks around the house, with children, or outside of the home. 

Providing a calm and nurturing environment for the mother to heal.

Providing meals for the entire family.

Having a conversation with the mother and ensuring you know what needs there are to be met.
Be sure to talk to your doctor when it comes to planning for your baby's delivery so you can stay informed and knowledgeable about what is best! 
Visit https://www.ccmhhealth.com/womens-health/maternity-childbirth/ to learn more about CCMH's maternity and baby services! 
References: 
https://www.preventaccreta.org/
https://www.hopkinsmedicine.org/health/treatment-tests-and-therapies/cesarean-section
https://www.mountsinai.org/health-library/discharge-instructions/going-home-after-a-c-section
Disclaimer
The Comanche County Memorial Hospital website does not provide specific medical advice for individual cases. Comanche County Memorial Hospital does not endorse any medical or professional services obtained through information provided on this site, articles on the site or any links on this site.
Use of the information obtained by the Comanche County Memorial Hospital website does not replace medical advice given by a qualified medical provider to meet the medical needs of our readers or others.
While content is frequently updated, medical information changes quickly. Information may be out of date, and/or contain inaccuracies or typographical errors. For questions or concerns, please contact us at contact@ccmhhealth.com.