COVID Antibody Infusion Services at CCMH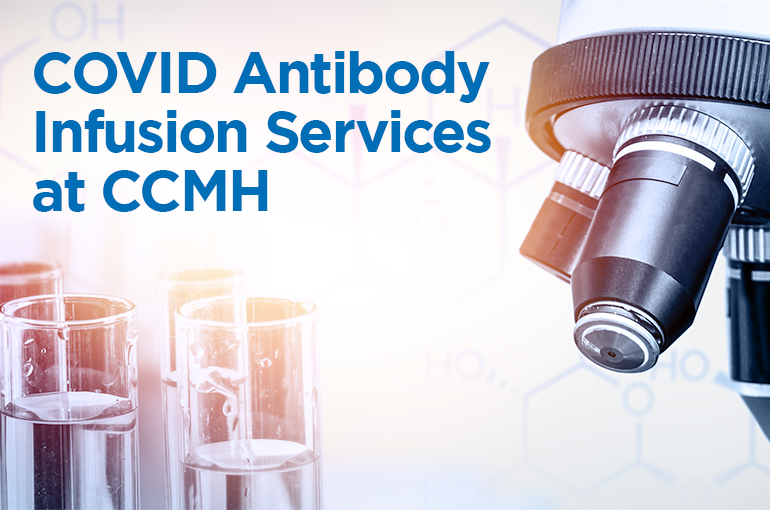 If you have tested positive for COVID-19, ask your provider about Monoclonal antibodies as a treatment option. CCMH has the capability to do these treatments under the direction of your physician. These treatments are for people who are experiencing mild to moderate symptoms of COVID-19 and are at high risk of developing severe disease and at risk of being hospitalized. Monoclonal antibodies may block the virus that causes COVID-19 from attaching to human cells thereby making it more difficult for the virus to reproduce and cause harm.
Criteria
Mild to moderate COVID-19 disease within the first 10 days of symptoms
NOT hospitalized, requiring oxygen therapy due to COVID-19, or requiring an increase in baseline oxygen flow rate due to COVID-19 in those on chronic oxygen therapy due to underlying nonCOVID-19 related comorbidity
At high risk for progressing to severe COVID-19 and/ or hospitalization
Are >65 years of age
Are >55 years of age AND have

BMI >35
Have chronic kidney disease
Have diabetes
Have immunosuppressive disease or are receiving immunosuppressive treatment
Cardiovascular disease, OR • Hypertension, OR
COPD/other chronic respiratory disease

Are 12-17 years of age AND have

BMI >85th percentile for their age
Sickle Cell Disease, OR
Congenital or acquired heart disease, OR
Neurodevelopmental disorders, i.e. Cerebral Palsy, OR
Medical-related technological dependence, i.e. tracheostomy, gastrostomy, or positive pressure ventilation (not related to COVID-19), OR
Asthma, reactive airway or other chronic respiratory disease that requires daily medication for control
Details For Scheduling & Ordering
Physician or Advance Practice Nurse or Physician Assistant will determine if patient meets criteria and orders will be faxed to infusion at 580.585.5472.
Request for antibody infusion slot must be emailed to covidinfusion@ccmhhealth.com
Infusions will be administered Monday – Friday during regular clinic hours, scheduled in order of request.
Please allow three hours for appointment time.
These should be added on to the schedule 24 hours before the needed time if at all possible!
At this time, weekend scheduled infusions are not available.
Administration Window
These infusions can be given as soon as possible after a positive viral test for SARS-CoV-2 or within 10 days of symptom onset. Infuse over 60 minutes and monitor patient well being for at least 1 hour.
Antibody Therapy Options
Casirivimab 1200mg + Imdevimab 1200mg IV infusion over 60 minutes and FLUSH with 50ml NS post infusion OR
Bamlanivimab 700mg IV infusion over 60 minutes and FLUSH with 50ml NS post infusion