Creative Ways to Stay Active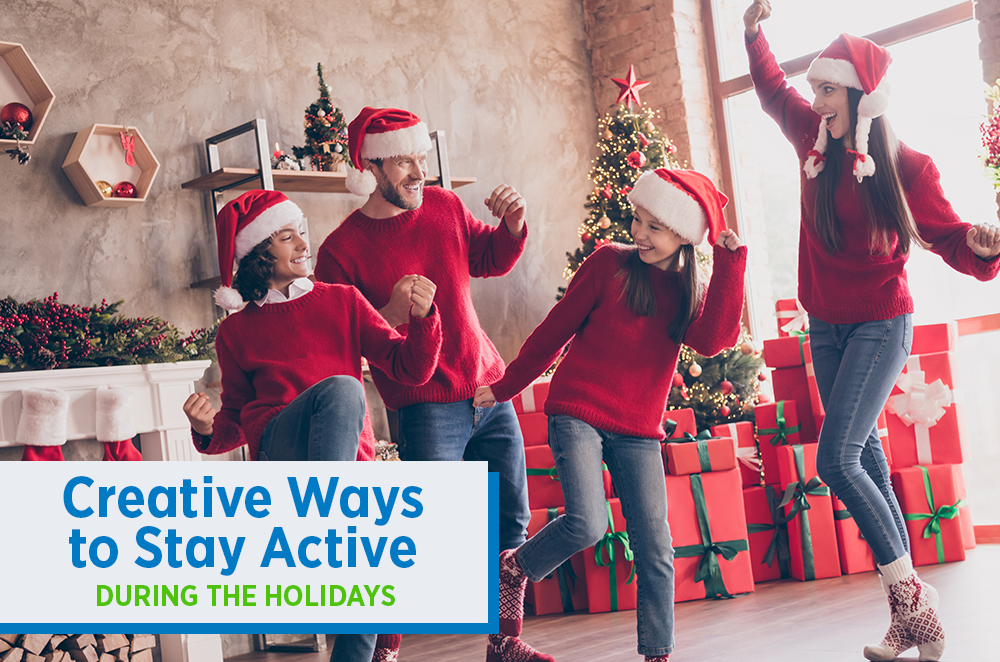 Creative Ways to Stay Active During the Holidays
We have entered the season of peppermint mochas, Christmas desserts, and long to-do lists. If the thought of holiday baking and never-ending lines at the stores has you crossing fitness off your list, you are not alone. When life gets busy, working out and staying active gets put on the back burner. It's imperative that we find creative ways to stay active during the holidays so we can remain prioritizing our physical health!  
Why we need to stay active
According to the CDC, staying physically active improves brain health, manages weight, reduces the risk of disease and strengthens bones and muscles. Some other health benefits include reducing the risks of cancers such as: 
Bladder

Breast

Colon

Endometrian 

Esophagus

Kidney

Lung
During the holidays, we tend to push aside our fitness in fear of missing out on family time and not being able to get everything ready for the holiday. Instead of sacrificing exercise time for family time, combine them.
Get Creative
The holidays are the perfect time for getting your family involved in a healthier lifestyle. Here are a few activities that the whole family can participate in:
Take a tour of your favorite holiday lights! Instead of driving around to see them, walk around your neighborhood or through a local holiday light display.

When it is too cold to be outside, turn up some holiday music and have a dance party.

Make ordinary tasks more fun and turn them into a competition! Raking leaves? See who can make the biggest pile. Putting toys away? See who can finish first.

Whether it's time to make room for holiday decorations or time to do a little winter cleaning, involve the whole family! Rearranging furniture is a great way to exercise and keep our muscles active. The kids can help with cleaning under those couches!

If we are lucky enough to get some snow, get outside and build a snowman or have a snowball fight. These are great ways to move our bodies, plus you'll have fun in the process!
Not only will you build wonderful memories, but you'll also teach the family that our health and family connection is a top priority. Talk to your doctor about how regular fitness can improve yours and your family's overall health!  
Resources:
https://www.cdc.gov/physicalactivity/basics/pa-health/index.htm
Disclaimer
The Comanche County Memorial Hospital website does not provide specific medical advice for individual cases. Comanche County Memorial Hospital does not endorse any medical or professional services obtained through information provided on this site, articles on the site or any links on this site.
Use of the information obtained by the Comanche County Memorial Hospital website does not replace medical advice given by a qualified medical provider to meet the medical needs of our readers or others.
While content is frequently updated, medical information changes quickly. Information may be out of date, and/or contain inaccuracies or typographical errors. For questions or concerns, please contact us at contact@ccmhhealth.com.