Football Safety Tips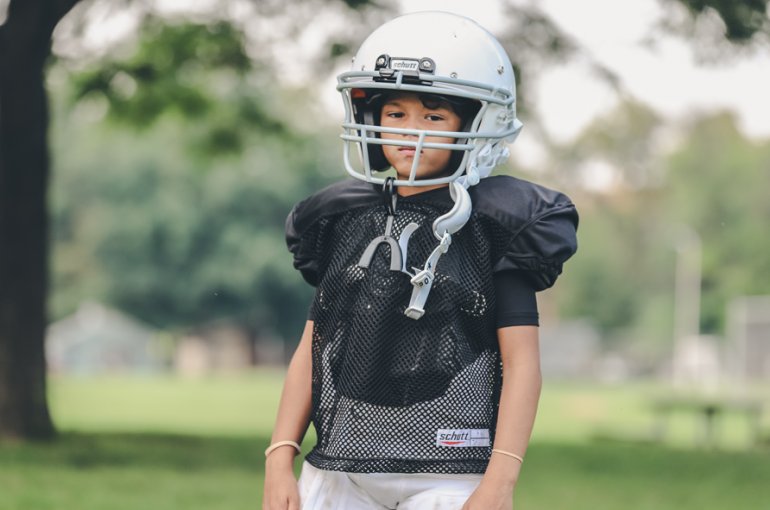 Many parents have mixed feelings about their children playing contact sports such as football and rightfully so. Injuries in these sports are common. There is nothing you can do to prevent 100% of football injuries from happening. However, from wearing the proper gear to ensuring your child follows certain techniques during practice and on game day, there are many great tips you can follow to prevent a good number of football-related incidents. 
Football gear for safety 
If you have the option to purchase your child's helmet yourself, familiarize yourself with the helmet safety guidelines determined by the National Operating Committee on Standards for Athletic Equipment (NOCSAE). 
Helmets should have a thick layer of padding surrounded by a hard plastic outer shell. They should also have facemasks produced from coated carbon steel that are secured to the helmet. Depending on the position your child plays, his or her coach may recommend a particular type of facemask. Lastly, helmets should be secured with a chin strap and protective chin cup. 
Additionally, all players should have shoulder pads with a hard plastic shell and thick padding. Pants should have padding on the knees, hips, tailbone, and thighs, and all players should wear a mouthguard. Male players should wear an athletic supporter with a cup to prevent testicular injuries.
Each league has its own rules regarding the types of shoes and cleats players can use. 
Other items that you might want to consider include "flak jackets" to protect the abdomen and rib cage, forearm pads, padded neck rolls, and padded or non-padded gloves.
If your child must wear glasses during football, be sure that they're shatterproof. 
Football training tips
During practice, the coach should emphasize safe and fair practices among players. Physical contact should be less during practice including helmet-to-helmet and helmet-to-body contact. He or she should insist on all players wearing the correct protective gear as well. Coaches should teach players proper techniques including how to tackle, how to absorb a tackle, and how to fall safely to the ground when tackled. 
To prevent injuries, take your child for a sports physical before starting a new sport. Remind him to stretch and warm up before playing. Overuse injuries can be avoided by playing different sports throughout the year. 
Ensure your child drinks plenty of fluids before and after games and practices, especially on hot days. 
Safe Game Tips 
Discuss the safety rules implemented during practice with your child and following them during games. Encourage your child to not argue with referees and be respectful to everyone. Encourage him to stay calm and let his coach and referee know if another player attempts to injure him on purpose. 
Lawton Community Health Centers (LCHC) located in Lawton, Comanche, Elgin, Marlow, and Cache communities are available to help with school and sports physicals, verify immunizations are current and discuss any other medical or nutrition concerns with parents. For more information or to make an appointment with one of our LCHC clinics please call our Provider Referral Line at 580.510.7030.
Disclaimer 
The Comanche County Memorial Hospital website does not provide specific medical advice for individual cases. Comanche County Memorial Hospital does not endorse any medical or professional services obtained through information provided on this site, articles on the site or any links on this site.
Use of the information obtained by the Comanche County Memorial Hospital website does not replace medical advice given by a qualified medical provider to meet the medical needs of our readers or others.
While content is frequently updated, medical information changes quickly. Information may be out of date, and/or contain inaccuracies or typographical errors. For questions or concerns, please contact us at contact@ccmhhealth.com.