Good News for CCMH – Great News for You!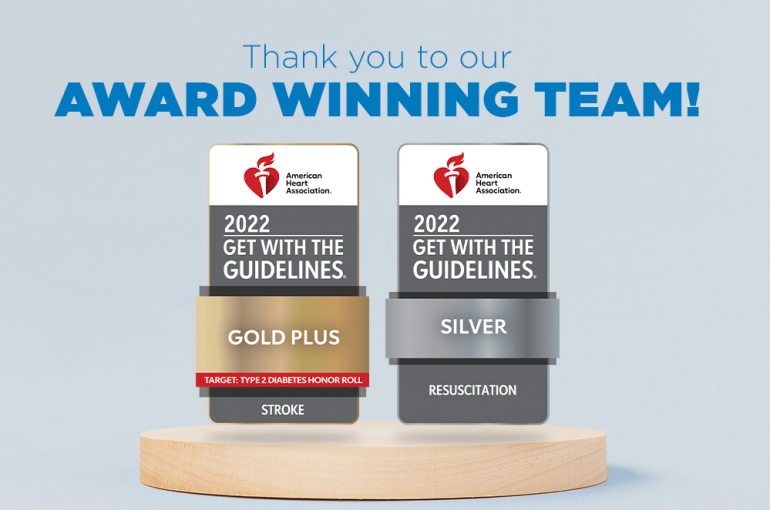 CCMH has been nationally. recognized by the American Heart Association and American Stroke Association for their exceptional care for resuscitation and stroke from the Emergency Department to discharge as well as cardiovascular care.
The Gold Award status recognizes exceptional stroke care for 12 consecutive months. CCMH also received an additional award for achieving target goals for patients with diabetes, a high risk population for stroke.
Stroke is the No. 5 cause of death and a leading cause of adult disability in the U.S. On average, someone in the U.S. suffers a stroke every 40 seconds, and nearly 795,000 people suffer a new or recurrent stroke each year. Early stroke detection and treatment are key to improving survival, minimizing disability and speeding recovery times.
Get With The Guidelines-Stroke was developed to assist healthcare professionals to provide the most up-to-date, research-based guidelines for treating stroke patients.
CCMH also earned the Silver Award for resuscitation, the first time the hospital has achieved this honor.
Nearly half of all adults in the U.S. have experienced some form of cardiovascular disease – including heart attack, stroke and heart failure. For patients with conditions that are severe enough to be transported or admitted to a hospital, time is critical.
Although COVID-19 has changed the world, it hasn't changed the fact that hospitals are the safest place to be if there's a heart attack, stroke or other medical emergency.
Delaying the 911 call that gets you to the hospital can be dangerous — even deadly. Here's why the coronavirus shouldn't make you hesitate or doubt you need emergency help:
Hospitals are following infection control protocols to sanitize, socially distance and keep infected people away from others. In fact, many hospitals have separate emergency rooms, operating rooms, cardiac catherization rooms and ICUs for people with COVID-19 and for those people suspected to have the disease. Patients are often being met by workers in full protective gear as a precaution, and family member access is restricted.
Calling 911 immediately is still your best chance of surviving an emergency. It is SAFE for EVERYONE to call 911. It is SAFE for ANYONE to go to the hospital in an emergency.
Emergency room workers know what to do, even when things seem chaotic. Emergency rooms have made plans to ensure adequate staffing and keep patients and workers safe. This is their specialty and their strong suit; hospital workers are trained in disaster readiness and to get the job done in any situation.
Fast care is the key to survival. Minutes matter. People with blocked arteries or clots causing heart attacks or strokes need care quickly. The difference between life and death can be measured in minutes. With so little time to work with, and the extra time needed to ensure coronavirus safety measures, calling 911 quickly is more important than ever. Great job to the heart and stroke team for their dedication and exceptional service to those in need in our community!
Source: American Heart Association