Heart Healthy Luncheon – February 15, 2019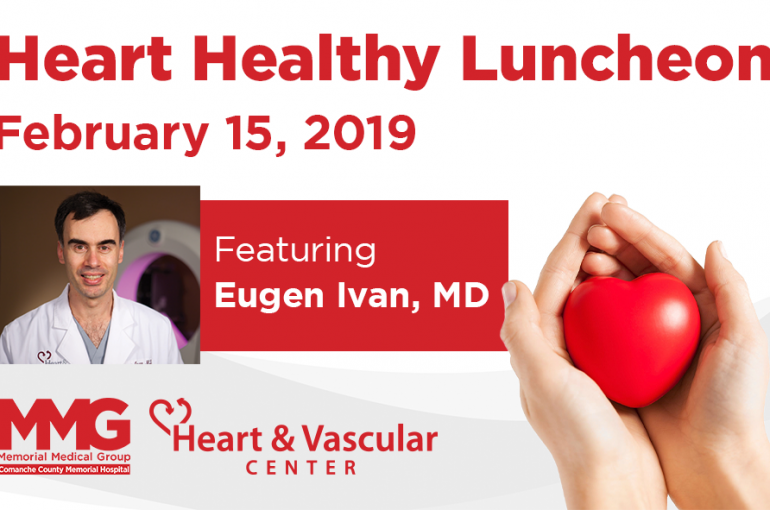 Heart Healthy Luncheon
February 15, 2019 • 11:30am
Oakwood Conference Room
A delightful lunch and informative discussion regarding "Peripheral Artery Disease" featuring Eugen Ivan, MD.
$10 per meal
RSVP by February 11, 2019, call 580-585-5406
---
Quick facts about Peripheral Artery Disease (PAD)
The most common symptoms of PAD involving the lower extremities are cramping, pain or tiredness in the leg or hip muscles while walking or climbing stairs. Typically, this pain goes away with rest and returns when you walk again.
Be aware that:
Many people mistake the symptoms of PAD for something else.
PAD often goes undiagnosed by healthcare professionals.
People with peripheral arterial disease have a higher risk of coronary artery disease, heart attack or stroke.
Left untreated, PAD can lead to gangrene and amputation.
Added risks for PAD
Other factors can increase your chances for peripheral artery disease, including:
Your risk for peripheral artery disease increases with age.
High blood pressure or high cholesterol puts you at risk for PAD.
If you smoke, you have an especially high risk for PAD.
If you have diabetes, you have an especially high risk for PAD.
The good news
If you're at risk for peripheral artery disease or have been diagnosed with PAD, it's worth knowing that:
PAD is easily diagnosed in a simple, painless way.
You can take control: Follow your doctor's recommendations and strive to lead a heart-healthy lifestyle.
Some cases of PAD can be managed with lifestyle changes and medication.