Hidden Food Allergens Around You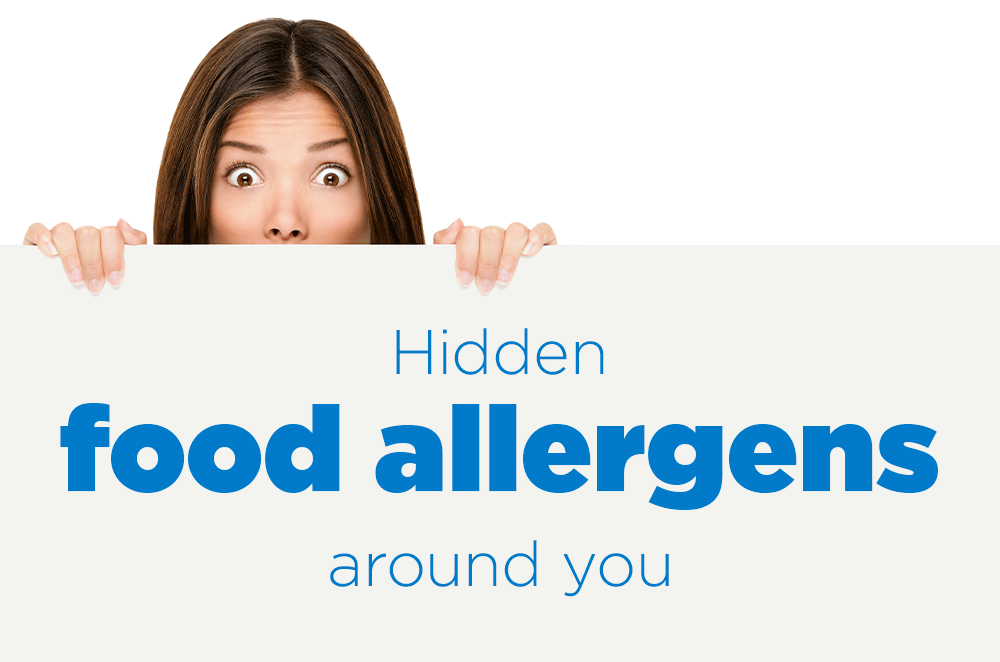 Hidden Food Allergens Around You
The month of September is dedicated to food safety awareness. Food safety ensures that you follow guidelines to ensure that the consumption of prepared food is safe and free of contaminants that cause illness or injury. While anyone can become ill due to unsafe foods, some people may suffer from food allergies. It is easy to avoid foods you know you are allergic to, but there is a danger in the hidden good allergens around you that you may unknowingly come across. 
The most common food allergies
Food allergies affect nearly 11% of adults in the United States. According to the Food and Drug Administration, 90% of allergies to food are to the following 8 food allergens. These allergies can range from mild to severe food allergies. They are:
Milk 

Eggs 

Fish (e.g., bass, flounder, cod) 

Crustacean shellfish (e.g., crab, lobster, shrimp) 

Tree nuts (e.g., almonds, walnuts, pecans) 

Peanuts 

Wheat 

Soybeans
While it is enforced by the FDA for foods to be correctly labeled to identify when a food contains these allergens, it is very possible that they are listed under a name that is not as common. For example, you may see a peanut allergen listed as "arachidic acid" or "hydrolyzed plant protein". 
Where Food Allergens Hide
At first glance, some foods may appear to not have some of the most common allergens. If you have an allergy or if someone you are cooking for has an allergy, it is imperative to know where the food allergens can hide. 
Skin Care and Cosmetics – Allergens in skin care and cosmetic products include things like shea nut butter, or other tree nuts ingredients. Oils from nuts are often used in hair conditioner. 

Playdough – Store bought playdough can contain wheat. 

Pet food – Pet food is made with ingredients that could include tree nuts, peanuts, soy, or wheat. While these ingredients are important for your pet to consume, it could cause irritation for the owner when handling. 

Vaccines – Some vaccines contain food allergens such as egg ingredients. If you are known to have food allergies, make sure to talk to your doctor before considering vaccines! 

Medications – can contain soy, wheat, milk, and eggs

Birdseed – providing a place in your yard for birds to visit and eat is a great way to learn about and observe them, but a lot of bird seed can contain tree nuts or wheat
Allergic Reactions and Anaphylaxis 
Allergens can trigger a number of different reactions in your body. These reactions include hives, swelling, runny nose, and chest tightness. Often, a mild allergic reaction can be treated with over the counter medications. 
Anaphylaxis is a more severe and life-threatening allergic reaction. The symptoms of anaphylaxis include:
Drops in blood pressure and a weak pulse

Nausea and vommitting 

Light headedness and loss of consciousness
Anaphylaxis can be quickly and temporarily treated with an Epinephrine injection via. EpiPen. If you are around someone who is experiencing anaphylaxis, call 911 immediately. 
If you believe you are experiencing an allergic reaction, either mild or severe, speak to your doctor about what could be triggering and the steps to take in order to manage your allergy. Additionally, ensure your medical information is accessible in future emergencies. 
Resources
https://www.allergicliving.com/2010/09/01/hidden-allergens/ 
https://www.mayoclinic.org/diseases-conditions/allergies/symptoms-causes/syc-20351497
The Comanche County Memorial Hospital website does not provide specific medical advice for individual cases. Comanche County Memorial Hospital does not endorse any medical or professional services obtained through information provided on this site, articles on the site or any links on this site.
Use of the information obtained by the Comanche County Memorial Hospital website does not replace medical advice given by a qualified medical provider to meet the medical needs of our readers or others.
While content is frequently updated, medical information changes quickly. Information may be out of date, and/or contain inaccuracies or typographical errors. For questions or concerns, please contact us at contact@ccmhhealth.com.