Hospice Services Now Available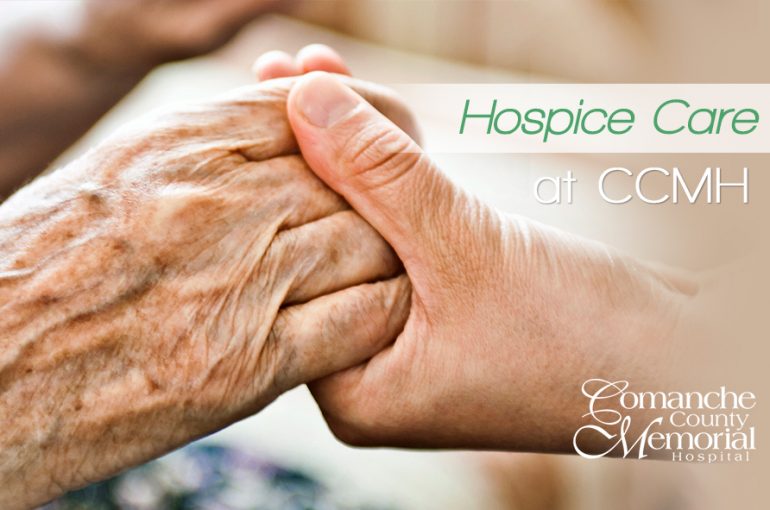 Over the years, Comanche County Memorial Hospital has worked diligently to offer services for virtually every area of medical specialty needed to care for our friends and neighbors here in Southwest Oklahoma.  After offering Home Health Services for over 30 years, today, we are proud to expand our continuum of care to Hospice and Supportive care services.  This will allow patients who need to transition from Home Health care, to end of life care to remain with the compassionate professionals they have come to know and be comfortable with.  In addition, those who may suddenly find themselves faced with end of life issues have a compassionate and professional alternative for care.
CCMH Hospice Services are provided under the direction of Medical Director, Brent Smith, MD.  The hospice team develops a care plan that meets each patient's individual needs.  Hospice Care is a philosophy of care that delivers comprehensive, compassionate services to patients with advanced or life-threatening illnesses and their families.  Hospice Care can enable patients with advanced illnesses to remain at home with quality of life and physical comfort.  We coordinate all services, including general Inpatient care for symptom management, if needed, so that continuity of care is maintained, 24 hours a day, 7 days a week, wherever a patient resides.
"We are glad to finally have our accreditation visit and be able to provide this valuable service to our community and those in need", stated Teea Henry, RN, Administrator of Home Health and Hospice Care.  "We are now accepting referrals and look forward to caring for those in their greatest hours of need", stated Henry.