IBS Awareness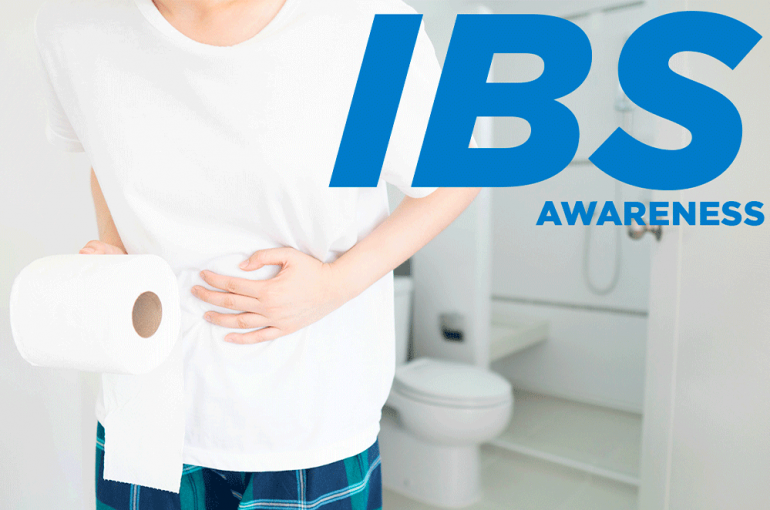 Irritable Bowel Syndrome (IBS) is a chronic condition that affects between 5-10% of individuals. It is suspected that even more of the population is living with IBS but has not had a diagnosis. The month of April is dedicated to raising awareness about IBS. By bringing awareness, we can encourage those who are experiencing symptoms to talk to their doctors as well as help people understand what their loved ones with IBS may be experiencing. 
IBS is not detrimental to the lifespan of the person experiencing it, but it does cause the patient to have to visit a health care provider more often, more surgeries, and can also impact the patient's quality of life. On average, a person with IBS restricts their activities for 73 days out of a full year. Pain, low mood, or frequent trips to the restroom can cause these activity restrictions . 
Symptoms of IBS
There is no set rule as to what kind of symptoms are experienced, the level of discomfort caused by the symptoms, or when the symptoms occur. The IBS attacks can occur at random and the severity of the attacks can differ. The random nature of IBS is what can contribute to mood disorders and mental health issues. 
Some of the main symptoms of IBS can include:
Severe abdominal cramping 

Bloating

Bowel movement consistency that is either harder or looser than usual

Excess of gas

Presence of mucus in stool
Treatment and outlook
There is no one end-all cure for IBS. The treatment for IBS is focused on the management of the symptoms. The symptoms can leave the patient with feelings of stress, anxiety, depression, and other negative emotions. Managing the symptoms of IBS can involve changes in diet, activities, and medications. To avoid flare-ups it's important to identify the triggers that set off an IBS attack. Triggers could be a certain food, a stressful situation, or for women, a menstrual cycle. 
Living with IBS can pose challenges. It is important that we understand these challenges so that we can support those we know that have the condition. Bringing awareness to IBS can help research and aid in finding out more ways to improve the lives of those living with it. 
If you are experiencing symptoms of IBS, visit https://www.ccmhhealth.com/center-for-digestive-health/ to find out more about how our Center for Digestive Health can help you. 
Disclaimer
The Comanche County Memorial Hospital website does not provide specific medical advice for individual cases. Comanche County Memorial Hospital does not endorse any medical or professional services obtained through information provided on this site, articles on the site or any links on this site.
Use of the information obtained by the Comanche County Memorial Hospital website does not replace medical advice given by a qualified medical provider to meet the medical needs of our readers or others.
While content is frequently updated, medical information changes quickly. Information may be out of date, and/or contain inaccuracies or typographical errors. For questions or concerns, please contact us at contact@ccmhhealth.com.