Importance of Wound Care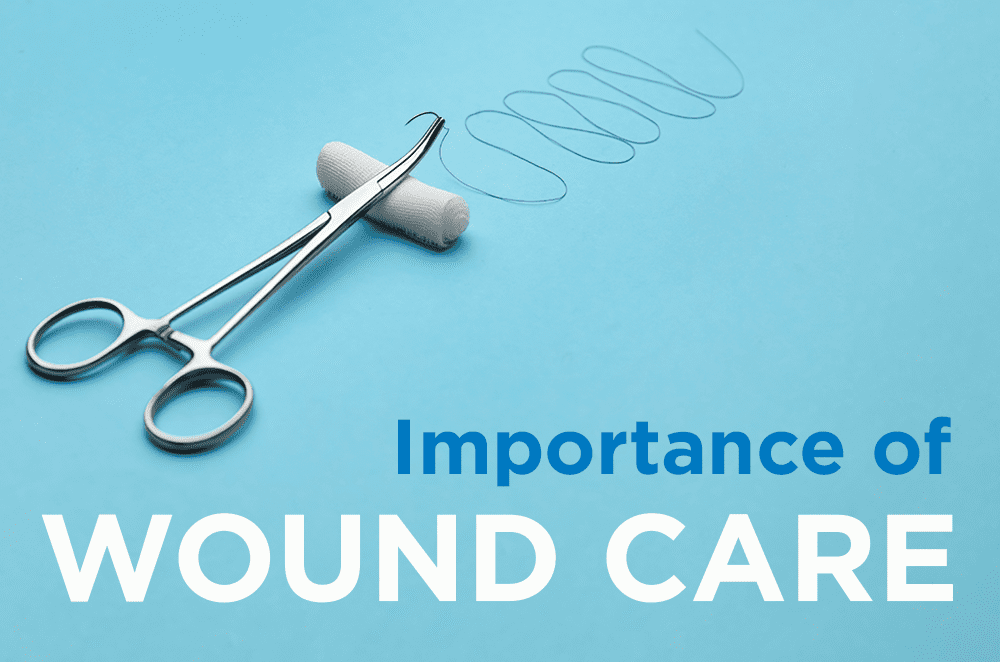 Wound care is an important aspect of healthcare that involves the proper management and treatment of wounds to promote healing and prevent infection. Whether it's a minor cut or a severe burn, proper wound care is essential for the prevention of complications and the reduction of pain and discomfort. 
Chronic Wounds
According to the American Family Physician, chronic wounds are defined as wounds that do not progress through a normal, orderly, or timely sequence of repair. They can be extremely painful and significantly affect a person's quality of life. These wounds are often the result of underlying health conditions such as diabetes, obesity, and vascular disease. Chronic wounds can also arise from traumatic injuries, pressure ulcers, and surgical incisions that do not heal properly. 
Common Types of Chronic Wounds
Common types of chronic wounds include diabetic foot ulcers, pressure ulcers, and venous leg ulcers. These types of chronic wounds can be incredibly difficult to manage and may take a long time to heal. However, certain treatments and wound care practices can help promote healing and prevent further complications. 
For diabetic foot ulcers, controlling blood sugar levels is crucial for wound healing. 
Pressure ulcers require regular positioning and special cushions to relieve pressure. 
Venous leg ulcers can benefit from compression therapy, which helps increase blood flow and reduce swelling. 
It's important to work with a healthcare provider to develop a treatment plan that is customized to your individual needs to promote healing and prevent future chronic wound development.
Proper Wound Care
As a trusted provider of wound care services, our team at CCMH understands the challenges faced by those living with chronic or non-healing wounds. Wounds can happen to anyone, and they can be quite painful and debilitating. It's essential to take the right steps to care for them properly, whether it's a minor cut or a severe injury. Proper wound care can prevent infections, reduce the risk of complications, and speed up the healing process. Unfortunately, many people tend to neglect wound care, which leads to chronic or hard-to-heal wounds.
Understanding the underlying causes of chronic wounds is key to promoting healing and preventing recurrence. An effective treatment plan should be tailored to a patient's individual needs based on the cause and severity of their wound. If you are facing anything from a spider bite to surgical wounds, our Center for Wound Care & Hyperbaric Medicine is here to help you. Since 2004, we have treated over 3,500 patients with chronic and hard-to-heal wounds. Call us today at 580.357.3671 and see how our team can help.
Resources:
https://www.aafp.org/pubs/afp/issues/2020/0201/p159.html#:~:text=Chronic%20wounds%20are%20those%20that,wound%20prevention%20and%20treatment%20guidelines.
https://www.ccmhhealth.com/wound-care/
Disclaimer
The Comanche County Memorial Hospital website does not provide specific medical advice for individual cases. Comanche County Memorial Hospital does not endorse any medical or professional services obtained through information provided on this site, articles on the site or any links on this site.
Use of the information obtained by the Comanche County Memorial Hospital website does not replace medical advice given by a qualified medical provider to meet the medical needs of our readers or others.
While content is frequently updated, medical information changes quickly. Information may be out of date, and/or contain inaccuracies or typographical errors. For questions or concerns, please contact us at contact@ccmhhealth.com.