Melissa Alvillar Promoted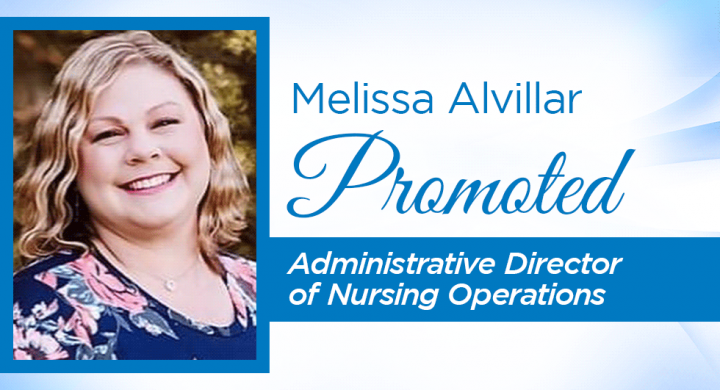 Melissa Alvillar started her career in healthcare as a CNA in 2002 in California. She worked as a CNA in Long Term Care, then transitioned to Acute Care work when she started her LPN program. Once she completed her LPN program, she moved to Oklahoma where she worked in Women's Services, Med/Surg, and ICU units in Chickasha.
At that time, Melissa wanted to become a labor nurse and obtain her Registered Nurse license. She continued on with her education and received her Associates Degree in Nursing at Oklahoma City Community College. Seeing the advantages of a BSN for career advancement she went back to school and obtained her Bachelor's Degree in Nursing at SWOSU.
"As an RN, I have spent the majority of my career in Labor and Delivery, which I loved! I have worked in Labor and Delivery, NICU, Post Partum, 2 North and 2 South," said Melissa. "In 2016, I was asked to help cover a room in the OR due to a nursing shortage. Like normal "fill in jobs"- one day turned into 2 months!" Then she was offered the Surgical Services Manager Position which included the Operating Room, Recovery Room, GI lab, SPD, Surgicare, PAT, and Infusion Services. (Chris Ward, Chief Nursing Officer, says he loves developing leaders!)
Melissa spent two years as the Manager in Surgical Services and almost 2 years as the Director of Surgical Services. She developed a love that she never even thought she would have for the Surgical Services and the people in the departments! "What a fantastic group of hard working, detail orientated, and passionate people they are!" said Melissa.
In March 2020, Melissa was offered the Interim Director of Nursing Operations role while she still continued as Director of Surgical Services. Recently she accepted the full time position as Administrative Director of Nursing Operations. She is currently enrolled in classes to obtain her MSN.
"I love being a nurse and I love nursing here at Memorial. I am learning so much about the different units and what great people we have working here! We have an amazing team and I am so excited to be a part of it. I have a true passion for people and the relationships we build. I believe I am approachable and love to hear our staff member's input and ideas. I am so appreciative of the opportunities I have been given to be a part of Nursing and moving forward here at Comanche County Memorial Hospital!" said Melissa.
Please join us in welcoming Melissa to her new role!