Mitigating the Mental Health Consequences to Children During COVID-19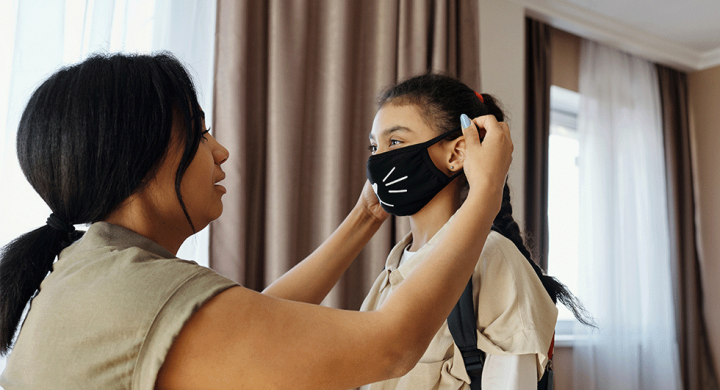 If we are all honest with ourselves, we have all probably struggled mentally at one point or another throughout the COVID-19 pandemic. Problems such as anxiety, suicide, and depression are on the rise. Sadly, over 47,000 individuals have lost their lives to suicide since the beginning of the pandemic. 
The feelings of uncertainty, changes in routine, social distancing, concern over the virus, and loss of income are all issues that can create a mental storm for anyone. Many times, we shelter our children from the news and think they are not affected by all that has gone on in the world. These times present new challenges and things we don't know how to handle for all of us. Children are not exempt from these struggles. 
Quarantine, the sudden stop of the school year, missed activities and milestones are all possible reasons for dealing with mental stress for children. It is also common for children to internalize feelings they don't understand or are not mature enough to deal with.
What changes may indicate a child is struggling mentally?
Children often react differently to mental distress than adults, making it more difficult for adults to recognize issues promptly. Here are some warning signs to be aware of: 
Unexplained body pain and headaches. 
Returning to behaviors they have outgrown (for example, toileting accidents or bedwetting).
Excessive irritation or crying in younger children.
Unhealthy sleep or eating habits. 
Excessive sadness or worry. 
Acting out and irritability in teens.
Decreased school performance and / or avoiding school.
Difficulty concentrating.
Use of drugs, alcohol, and tobacco. 
Avoiding activities enjoyed in the past.
How can I positively impact my child's mental health during COVID-19? 
Have a positive attitude about school 
How you react to the school year changes greatly impacts your own child's attitude and anxiety level. If you remain positive, he or she will have less reluctance about returning to school. 
Spend time preparing your child for the changes that will take place this school year, whether online, on campus, or homeschooling.
If he or she will be wearing a mask to school, let them pick out masks that reflect their personality and interests. Have him or her practice wearing their mask, slowly increasing the amount of time each day to become accustomed to wearing it for the school day. Let him or her have extra screen time or do another enjoyable activity while mask-wearing. 
Have something to look forward to
With so many of our calendars cleared of events, life can feel a little monotonous. Make sure there is always something in the distant future to look forward to. 
Even if it is as simple as planning to watch a new movie with your child over the weekend, having "plans" makes us focus less on all the difficulty in the world right now and give some normalcy to our lives.
Spend time outdoors 
Fresh air and sunlight do the body good. Being in the sun increases your level of vitamin D, the vitamin which regulates calcium and phosphorus and leads to healthier teeth, bones, and muscles. It may also impact mental health by increasing the brain's release of a hormone called serotonin. Serotonin boosts the mood and helps you feel focused and calm. 
If your child isn't big on the outdoors, now is a good time to work to find an outdoor activity he or she will enjoy.  It may be a great time to find an activity that the whole family may enjoy as well. From swimming to hiking, to fishing, to practicing a sport- there are many great options! 
Promote a mental health-friendly diet 
In 2010, a study found that women who ate unhealthy diets common to our culture had more psychological symptoms. These food include:
processed and fried foods
sugary products
refined grains (such as white bread)
beer
Some diets may, on the other hand, lessen anxiety and depression. Some of the diets include the Mediterranean diet, lower-calorie diets, and intermittent fasting. 
Discern when to talk about it and when to shelter them 
Don't assume because your child isn't saying anything about the virus that he or she is not bothered by it. 
Focus on making age-appropriate questions without confusing your child or adding to their fears. Begin by asking questions such as, "What have you heard about the virus?" "What questions do you have about it?"
Your child may be worried about getting sick or you getting sick, especially if he or she knows someone who has been seriously ill or died from the virus. 
Kids of all ages can be taught the importance of handwashing and how germs are spread. Knowing there are healthy habits that can prevent the spread will help him or her feel more confident that he or she will be ok. 
Take time every day to build them up
Some days during a pandemic are just survival mode. Take a few moments every evening to discuss the good and bad of the day. Focus on asking specific questions instead of just "How was your day?" The linked article has a great list of questions to help get the conversation going with your child. 
No matter what, remind your child they are surviving something none of us have ever navigated before. Celebrate the small victories and strategize plans for conquering the challenges. 
Make them unplug
Social media can be a great source of entertainment and a way to stay connected with friends and family. Especially during a pandemic, many of us have been spending time online. However, too much time online can lead to unhealthy physical habits as well as emotional ones. Not only does the bad news make us anxious, but many teens and even adults also struggle with comparing themselves to others which can lead to feelings of inadequacy, anxiety, and depression. 
According to the BBC, unplugging, even for small periods of time can decrease anxiety. So, it may be a good idea to implement a time when your whole family unplugs. Especially consider unplugging in the evenings as we know screen time can affect sleep quality. 
If you suspect your child is struggling at this time with problems such as anxiety or depression, please reach out. Your CCMH Providers are here to help as we all navigate these challenging times. 
Disclaimer
The Comanche County Memorial Hospital website does not provide specific medical advice for individual cases. Comanche County Memorial Hospital does not endorse any services obtained through information provided on this site, articles on the site or any links on this site.
Use of the information obtained by the Comanche County Memorial Hospital website does not replace medical advice given by a qualified medical provider to meet the medical needs of our readers or others.
While content is frequently updated, medical information changes quickly. Information may be out of date, and/or contain inaccuracies or typographical errors. For questions or concerns, please contact us at contact@ccmhhealth.com.