National Cleft and Craniofacial Awareness Month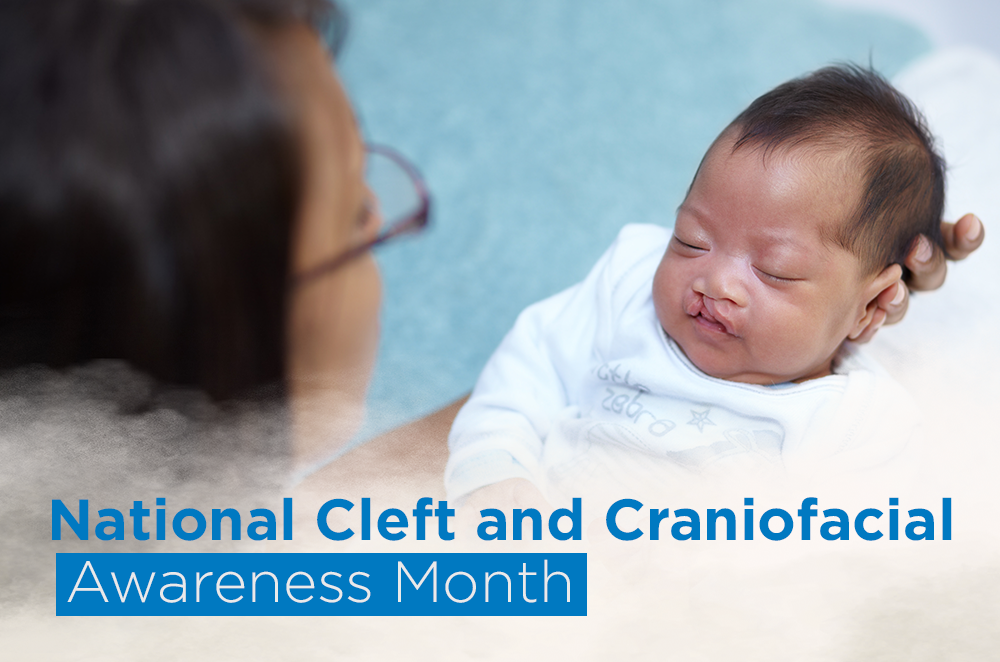 The month of July has been designated as National Cleft and Craniofacial Awareness Month! During this month, it is important to spread awareness, promote understanding, and celebrate the uniqueness of individuals with cleft lip, cleft palate, and other craniofacial conditions.
What is Cleft Lip and Cleft Palate? 
This congenital condition occurs during pregnancy when certain facial structures do not fuse together properly. According to the CDC, nearly 2,600 babies are born with a cleft palate and nearly 4,400 are born with a cleft lip, with or without a cleft palate. Other craniofacial defects include: 
Skull sutures fusing prematurely

The ear is missing or underdeveloped

Missing or abnormally small eye
Children with cleft lip or cleft palate often experience difficulty eating, speech delay, and have a higher risk of developing ear infections and dental issues. 
Cleft Lip and Cleft Palate Prevention
The cause of cleft lip, cleft palate, and other orofacial conditions is unknown for most infants. There are some factors that are thought to contribute to the condition but overall, research has not been able to determine one specific cause. 
While some conditions are genetic, other conditions can be linked to several factors that the mother experienced during pregnancy such as:
Smoking 

Diabetes

Use of certain medications such as those that treat epilepsy
Management and Outlook
When a child is born with a cleft, there are treatment options available that can provide early interventions and help reduce the risk of developmental issues later in life. The treatment plan for children varies by age and severity of the cleft.
Most treatment involves surgery within the first 12 months of life and additional surgeries as the child ages. Other treatments can involve dental and orthodontic care or speech therapy. 
With prompt care, most children affected will live full and happy lives. Though there may be some issues that arise with self-esteem, you can talk to your pediatrician about support groups for parents of children with birth defects! 
Resources:
https://www.cdc.gov/ncbddd/birthdefects/cleftlip.html
https://www.marchofdimes.org/find-support/blog/cleft-lip-and-cleft-palate-awareness-and-prevention-month
Disclaimer
The Comanche County Memorial Hospital website does not provide specific medical advice for individual cases. Comanche County Memorial Hospital does not endorse any medical or professional services obtained through information provided on this site, articles on the site or any links on this site.
Use of the information obtained by the Comanche County Memorial Hospital website does not replace medical advice given by a qualified medical provider to meet the medical needs of our readers or others.
While content is frequently updated, medical information changes quickly. Information may be out of date, and/or contain inaccuracies or typographical errors. For questions or concerns, please contact us at contact@ccmhhealth.com.