New residents join emergency, family medicine programs at Comanche County Memorial Hospital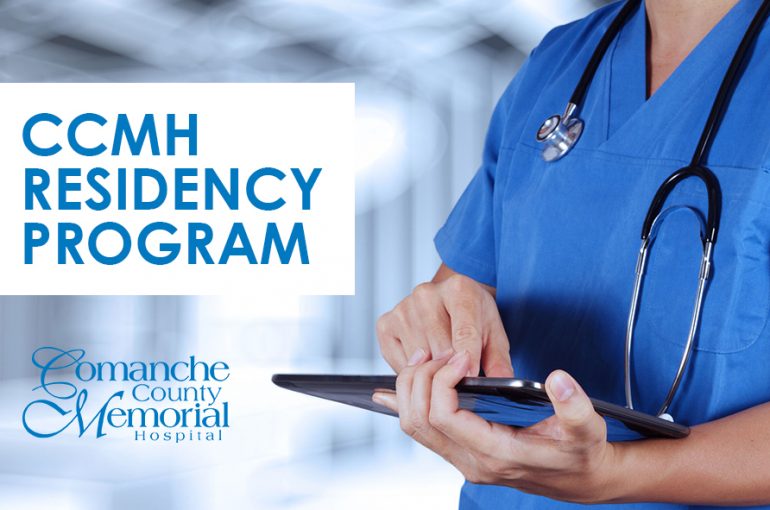 CCMH would like to welcome the new residents of the emergency and family medicine residency programs. A total of eight are joining the medical staff for their training. The Emergency Medicine Residency Program is a four year program designed to train resident physicians to provide quality emergency care in the context of an extremely busy emergency department. Residents have the opportunity to participate in the formal training of medical students and residents throughout their residency.
The Family Medicine Residency Program is a three year program with a curriculum that emphasizes rural ambulatory care and comprehensive family medical services and has a continuity care clinic supported by the Lawton Community Health Center. We would also like to recognize our current residents, as well as the new residents of the OU Physicians Family Medicine Residency Program:
Emergency Medicine Residents
Fourth Year
Doctors Christy Bullard, Ryan Ford, Samantha Harris, and Alexander Torres Third Year Doctors Daniel Dorton, William Murry, Alexander Swan and Matthew Wood Second Year Doctors Tyler Adams, Sampson Hitchcock, Justin Magalassi and Devin Toll.
Family Medicine Residents
Third Year
Doctors Sarah Cox, Phong Luu, Gretchen Stroud, Ryan Winfrey Second Year Mariam Bennett, Mercedez Bernard, Hunter Janz and Iryna Polyakova. Both programs have been overseen by the Director of Medical Education, which is Robert Behrmann, DO. Each program has a Program Director which is James McClay, DO for the Emergency Medicine Residency Program and Karen Schafer, DO for the Family Medicine Residency Program.