New Year, New Healthy Habits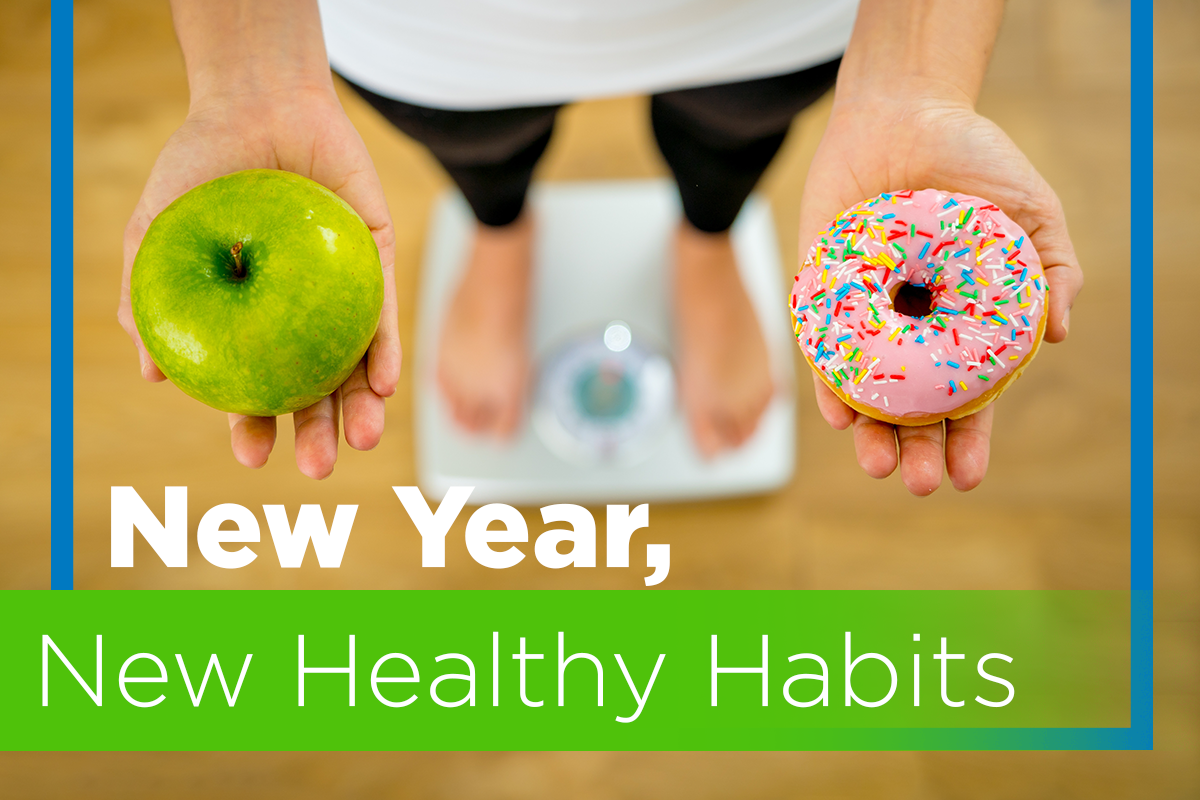 New Year, New Healthy Habits 
This new year is the perfect time to focus on your health. Rather than set the bar too high and feel guilty when you don't reach your goals, let's create some new healthy habits that are more sustainable and suited to your lifestyle. To set you up for success, listed below are some healthy habits that are easy to follow and incorporate into your daily lives.
Rethink Dieting
Most New Year's resolutions revolve around losing weight and restrictive diets. However, dieting can be harmful to both physical and mental health. The National Eating Disorders Association reports that 35% of "normal dieters" progress to pathological dieting and that 20-25% of those individuals develop eating disorders. Rather than following a restrictive fad diet, make a resolution to break the dieting cycle and focus more on eating healthier foods and increasing physical activity. Create a diet that is rich in whole, nutrient-dense foods and low in processed sugar. This will make it easier to follow on a long-term basis.  
Sit Less and Move More
For those who have a job at a desk all day, it is important to get up and move more. Being sedentary for long periods of time can have negative effects on our health. Being active can be as simple as getting up and walking for 5 minutes every hour or planning to walk a couple days during the week. Setting an attainable fitness goal will increase the chance of making these new routines last.
Take More 'Me Time' and Practice Self-care
Taking more time for yourself is not selfish. Self-care helps with optimal health and overall wellbeing, and it doesn't have to be complicated or time consuming. Some simple ideas for self-care might be:
Going for a short walk

Getting an extra hour of sleep

Get moving with a little yoga

Spending 15 minutes taking a breather and doing nothing
Whether it's five minutes or 20 minutes, making time in your busy day to relax will help with feeling happier and more at peace.
Visit Your Doctor
Having a regular examination by your doctor is important for many reasons. It can help spot any potential issues before they turn into something serious. It is best to see your primary care physician for a checkup at least once a year. If you're in need of a primary care physician, check out Comanche County Memorial Hospital's Find A Provider tool. CCMH's medical professionals would love the opportunity to provide you with care! 
Most New Year's resolutions are only practiced for a short time, however, the healthy habits listed above are more sustainable ways to improve overall physical and emotional health. You may not be ready to run a marathon or be a mediation guru by next week, but you will be on the fast track to a happier, healthier you.
Resource: https://www.nationaleatingdisorders.org/sites/default/files/ResourceHandouts/GeneralStatistics.pdf
Disclaimer
The Comanche County Memorial Hospital website does not provide specific medical advice for individual cases. Comanche County Memorial Hospital does not endorse any medical or professional services obtained through information provided on this site, articles on the site or any links on this site.
Use of the information obtained by the Comanche County Memorial Hospital website does not replace medical advice given by a qualified medical provider to meet the medical needs of our readers or others.
While content is frequently updated, medical information changes quickly. Information may be out of date, and/or contain inaccuracies or typographical errors. For questions or concerns, please contact us at contact@ccmhhealth.com.