Staying Safe on Easter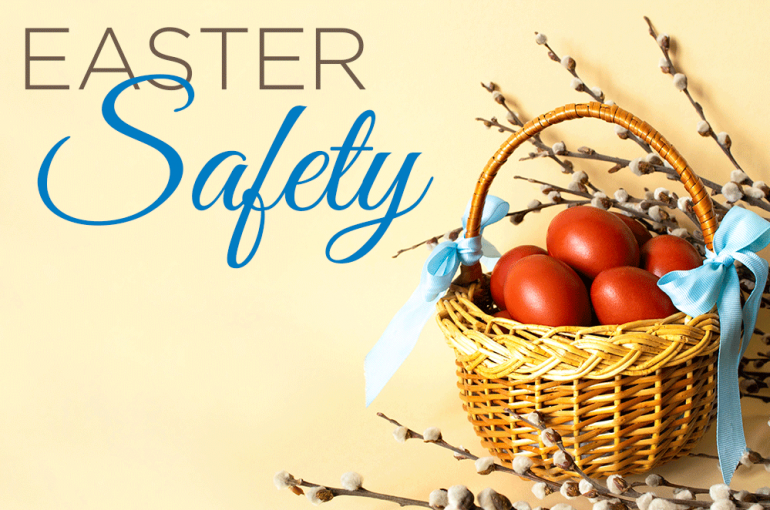 Easter is a holiday celebrated by 80% of Americans. People of all ages enjoy the holiday festivities and traditions that Easter has to offer, as well as taking part in the religious aspect of the holiday. Easter traditions can include attending a church service, egg hunts, decorating baskets, and hosting a huge family dinner. However your family chooses to celebrate, it is important that we focus on staying safe on Easter. 
Dinner Time Safety
There is no denying that the best part of any holiday is the food! Ham, roast beef, turkey, potatoes, pasta, you name it! Food is the staple around which families gather to celebrate. Whether your family eats their big Easter meal at 12 pm or 6 pm, it is important to know basic food sanitation and safety guidelines. Make sure you cook all food to the proper temperature. Different meats have different safety temperatures ranging from 145-165 degrees Fahrenheit. Ensure that your dishes have reached their proper internal temperature for at least 15 seconds before serving.
Don't let food sit out without heating or refrigeration for longer than two hours. When food is left without any sort of temperature control, it enters what is called "the temperature danger zone." This zone is when the internal temperature is 41 degrees and 135 degrees. This is the perfect breeding ground for food-borne illness bacteria. Because of this, pay attention to travel time if you are bringing a side dish for dinner, or if you are setting out appetizers for a pre-dinner happy hour! 
Choking hazards and candy safety
Another fun Easter tradition is filling baskets to the brim with candy and other small toys. To fluff up the baskets, people usually use easter grass, a colorful fake grass. This grass makes for beautiful baskets but it can become a choking hazard for small children and pets. If you do decide to use the grass, make sure to monitor children while they are picking through their baskets. 
Candy is also a huge part of easter. Ensure that the candy you are choosing to fill eggs or baskets is age-appropriate. Small, round candies such as skittles or M&Ms are delicious but they can pose a serious risk to children under 5. 
Egg hunt safety
One of the best traditions of Easter is the egg hunt. Adults have a blast hiding eggs throughout the house or in the nooks and crannies outside. Though this activity is highly anticipated and fun-filled, there are a few risks to look out for. 
When hiding traditional, edible eggs, make sure the eggs are held in the refrigerator until the last possible minute and the search for the eggs is no longer than 2 hours. If the eggs are outside, make sure you wash them before eating to get rid of dirt or debris. 
When choosing the best hiding spot for the eggs, make sure you thoroughly inspect the playing ground. Make sure there are no pests, animals, or environmental hazards such as large rocks or tree stumps. No one wants to pause the egg hunt to tend to a scraped knee! All hiding spots should be easily and safely accessible to everyone participating.
Easter is a time to join together with friends and family, celebrate and make lasting memories. The time spent during the holiday will be cherished for years to come so make sure you play your part in keeping everyone safe! Happy Easter!
During the holiday, if you experience an emergency that requires immediate medical attention, visit the Drewry Family Emergency Center. For more information on the Drewry Family Emergency Center visit https://www.ccmhhealth.com/emergency-care/
Resources
FDA https://www.fda.gov/food/buy-store-serve-safe-food/safe-food-handling 
The Comanche County Memorial Hospital website does not provide specific medical advice for individual cases. Comanche County Memorial Hospital does not endorse any medical or professional services obtained through information provided on this site, articles on the site or any links on this site.
Use of the information obtained by the Comanche County Memorial Hospital website does not replace medical advice given by a qualified medical provider to meet the medical needs of our readers or others.
While content is frequently updated, medical information changes quickly. Information may be out of date, and/or contain inaccuracies or typographical errors. For questions or concerns, please contact us at contact@ccmhhealth.com.