Sun Awareness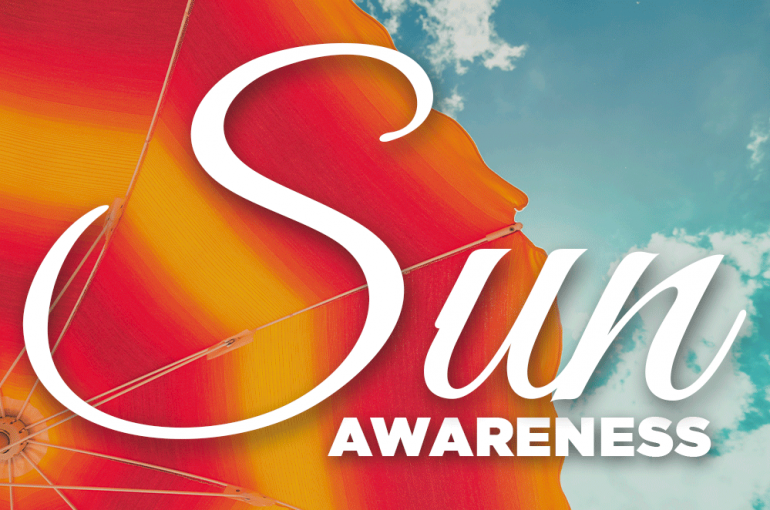 Sun Awareness
There is no doubt that spending days out in the warm sunshine can bring us feelings of joy and happiness. We can often lose track of time when we are outside and enjoying the sun. While sunlight has countless benefits for us, it can also bring forth a few risk factors. The month of May is dedicated to sun awareness and educating people about what role the sun can play in our health, both positive and negative. 
Benefits of Sun Exposure
When we are exposed to it in moderation, sunlight carries essential nutrients into our bodies. The most common nutrient we receive from the sun is vitamin D. Vitamin D is responsible for aiding the body's calcium production which, in turn, helps strengthen our bones. Beyond the physical benefits of sun exposure, we can also benefit mentally and emotionally as well. In the morning, exposure can lead to a leveling out of our circadian rhythm. A circadian rhythm is the body's natural tendency to wake and sleep on a schedule. The light produced by the sun signals to our brains which hormone it is time to produce – serotonin, a chemical responsible for good moods, or melatonin, a chemical responsible for sleep. Ultimately, when we are exposed to the sun, it can result in improvements in our mood, sleep quality, and energy! 
Risks of Sun Exposure
Pool parties, family cookouts, and outdoor recreation are some of the best summertime activities. If we are not careful and diligent when it comes to the amount of time we spend outside, then we may be putting ourselves at risk of the harmful effects of sun exposure. The main risk factors of sun exposure include: 
Painful sunburn that includes itchiness, blistering, and peeling

The increased look of aging on your skin

Eye injuries caused by the harmful UV rays of the sun 

Changes in your skin that could signal skin cancer

The most common form of cancer is skin cancer, otherwise known as melanoma. Melanoma occurs when there is an irregularity in the cells that produce the color of your skin. There are several causes of melanoma including genetics, irregular moles, and fairness of skin. Additionally, a cause of melanoma is direct sunlight exposure.
Staying Safe in the Sun
Despite the risks of being out in the sun, you can still have plenty of fun outside this summer. Here are some ways to keep your sun exposure risks to a minimum: 
Don't go out during the middle of the day – If you can, plan your activities for the morning or for the evenings. The sun is at its peak during the middle of the day and its harmful rays can be more damaging at this time. Plan for a shaded break from your outdoor activities in the middle of the day

Wear protective clothing – There are specially designed clothes that can protect you from the UV rays that the sun gives off. Leaving the skin bare and exposed can increase your risk of being hurt by the sun. This includes wearing sun hats and lightweight jackets.

Apply sunscreen – Sunscreen comes in a variety of different formulas and ingredients so it's important to pick the right sunscreen for the activities you are participating in! Make sure you choose a sunscreen that is labeled as being waterproof if you are planning a pool day or participating in water sports. Also, ensure that you are reapplying sunscreen as often as the directions say as some sunscreens may wear off more quickly than others. As a general rule, the FDA recommends sunscreens with SPF 15 or higher.
No doubt, some of the best summer activities take place outdoors. Swimming, boating, outdoor sports, and so many other activities create the best fun and lasting memories. When enjoying these activities, your sun exposure needs to be at the forefront of your mind to make sure you stay safe and healthy this summer! 
Saturday, May 21st from 8am-12pm at our Cancer Centers of Southwest Oklahoma Lawton location will offer FREE Skin Cancer screenings. Schedule your appointment by calling 580.536.2121! To learn more about the Cancer Centers of Southwest Oklahoma, visit ccmhhealth.com/cancer-care.
Resources 
https://www.fda.gov/consumers/consumer-updates/tips-stay-safe-sun-sunscreen-sunglasses 
Disclaimer
The Comanche County Memorial Hospital website does not provide specific medical advice for individual cases. Comanche County Memorial Hospital does not endorse any medical or professional services obtained through information provided on this site, articles on the site or any links on this site.
Use of the information obtained by the Comanche County Memorial Hospital website does not replace medical advice given by a qualified medical provider to meet the medical needs of our readers or others.
While content is frequently updated, medical information changes quickly. Information may be out of date, and/or contain inaccuracies or typographical errors. For questions or concerns, please contact us at contact@ccmhhealth.com.