Take Charge of your Cervical Health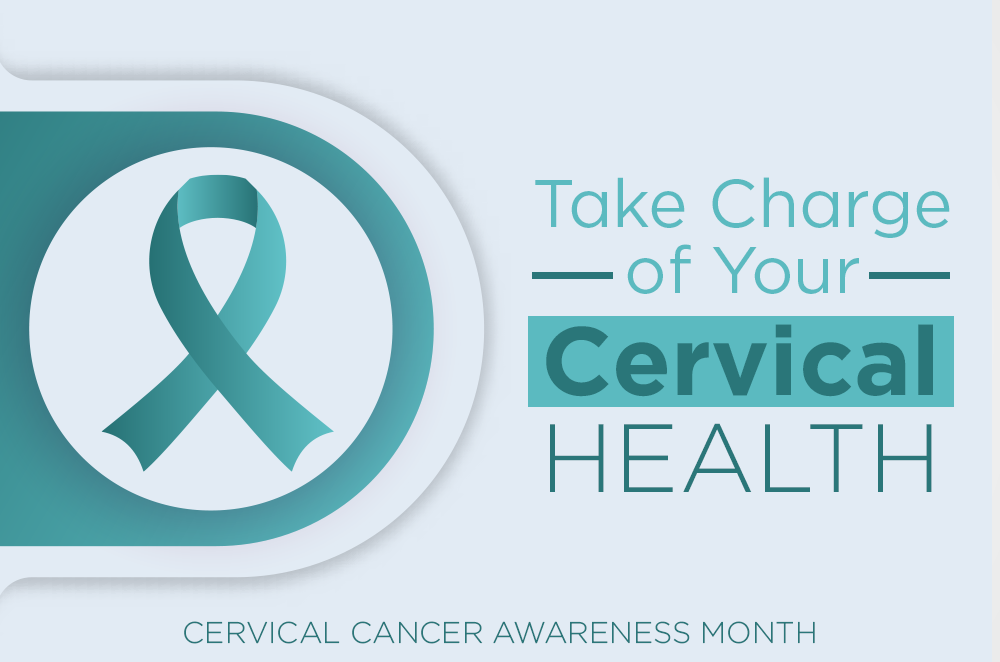 Take Charge of your Cervical Health
As we venture into January, we'd like to take the opportunity to highlight Cervical Cancer Awareness Month. Drawing awareness to your cervical health and this type of cancer is highly important as knowing the signs and methods of prevention are key to reducing risk! 
Cervical cancer is a cancer that develops within the cells of the cervix, in the lower part of a woman's uterus. According to the National Cervical Cancer Coalition, approximately 13,000 women in the United States are diagnosed with cervical cancer each year. However, the disease is highly preventable with vaccination and routine screenings.
Annual Screenings
As recommended by the CDC, the best way to detect cervical cancer and abnormalities is through cervical cancer screenings and HPV testing. The primary cause of cervical cancer is Human Papilloma Virus (HPV), a sexually transmitted virus that can be carried by both men and women. It is the most frequently diagnosed sexually transmitted virus in the United States. According to the CDC, approximately 13 million Americans, including teens, become infected each year.
Vaccination
Vaccination against HPV is also a preventative measure against cervical cancer. The CDC recommends the HPV vaccination for preteens aged 11-12 years old but can also be administered as early as age 9 and until age 26. Among vaccinated women, 40 percent of cervical pre-cancers have dropped, with 81 percent of infections with HPV types dropping among young adult women. 
Know the Signs
Cervical cancer is typically undetectable to the patient until it is at an advanced stage, which is why it's so important to take preventative measures. Some symptoms of cervical cancer can be detected at home.
Potential signs of cervical cancer can include:
Abnormal spotting or bleeding during intercourse

Abnormal discharge

Pelvic pain

Pain during urination
 If you have any of these symptoms, be sure to schedule an appointment with CCMH's Women's Health Care team. The staff is skilled and knowledgeable and ready to care for your needs.
Cervical cancer can take years to develop which makes routine screenings important. Routine screenings can often catch abnormalities early. Book your cervical screening appointment now, so you can check this off your 2023 to-do list.
Resources:
https://www.nccc-online.org/about-nccc/
https://www.cdc.gov/std/treatment-guidelines/hpv-cancer.htm 
https://www.cdc.gov/hpv/parents/about-hpv.html
 https://www.cdc.gov/hpv/parents/vaccine-for-hpv.html?CDC_AA_refVal=https%3A%2F%2Fwww.cdc.gov%2Fhpv%2Fparents%2Fvaccine.html  
Disclaimer
The Comanche County Memorial Hospital website does not provide specific medical advice for individual cases. Comanche County Memorial Hospital does not endorse any medical or professional services obtained through information provided on this site, articles on the site or any links on this site.
Use of the information obtained by the Comanche County Memorial Hospital website does not replace medical advice given by a qualified medical provider to meet the medical needs of our readers or others.
While content is frequently updated, medical information changes quickly. Information may be out of date, and/or contain inaccuracies or typographical errors. For questions or concerns, please contact us at contact@ccmhhealth.com.