Talking to your Teen About Suicide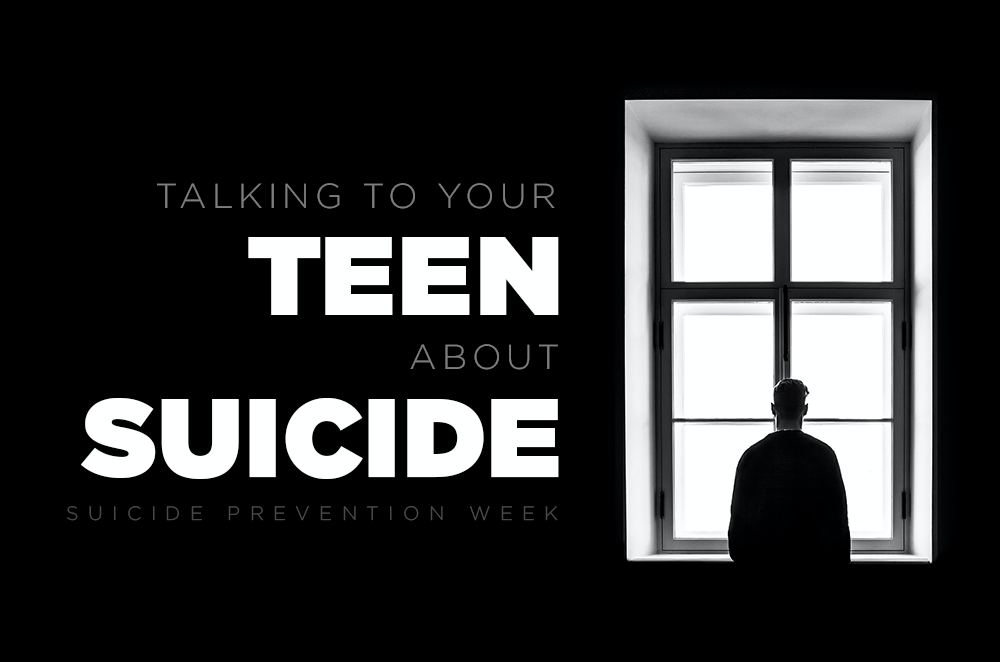 Talking to your Teen About Suicide 
When it comes to your teenage children, there are many topics that you as a parent feel are necessary to teach them in order for them to remain happy, and healthy and set them up for a promising future. Among those topics should always be the serious topic of suicide. 
The week of September 6-12 is deemed Suicide Prevention Week, where we draw awareness to the second leading cause of death for young people. This week, prioritize talking to your teen about suicide. 
How common is suicide? 
Suicide is defined as a behavior that is self-inflicted that causes a life-ending injury. According to UCLA Health, nearly 20% of high school students report thoughts of suicide or self-harm. Because of these statistics, your child will know of someone who has considered or attempted suicide. 
These statistics were fueled tremendously by the isolation brought on by the pandemic and social distancing. As our teens are now experiencing a sense of normalcy when it comes to socializing, they are interacting more commonly with the risk factors of suicide.
Risk Factors 
There are many factors in your teen's life that could potentially lead to self-harm. Just because your teen may be experiencing these factors, does not mean they are seriously considering self-harm. These are some red flags to look out for: 
A recent or serious loss. While this applies to death, it can also be the loss of relationship or sense of normalcy. For example, parents divorce or a breakup with a boyfriend or girlfriend. 

Prior suicide attempt 

Substance abuse

Struggling with self-identity or sexual orientation

A family history of suicide

Bullying – This could mean an increased risk for those who are bullied as well as those who are bullies themselves. 

Access to lethal means such as narcotics or guns

Not feeling like they can ask for help – This is either due to a stigma set by the adults in the family or just not feeling support from those around them
When to Talk
Often, there is a myth that is associated with talking about suicide. People tend to believe that having a conversation about suicide will put the idea in your child's head. This couldn't be further from the truth. By having this talk with your child, you could be significantly reducing the risk factor mentioned about by letting them know you support, care, and are always available to talk. 
It is important to be proactive in discussing this topic with your child. Do not wait until you notice the risk factors. If you need help starting the conversation with your child, talk to your doctor about how to open the floor to this topic! 
Useful Resources for Suicide
Suicide Hotline: 988 
Crisis text line: text TALK to 741-741
https://www.kidshealth.org/en/teens/your-mind/ 
The Comanche County Memorial Hospital website does not provide specific medical advice for individual cases. Comanche County Memorial Hospital does not endorse any medical or professional services obtained through information provided on this site, articles on the site or any links on this site.
Use of the information obtained by the Comanche County Memorial Hospital website does not replace medical advice given by a qualified medical provider to meet the medical needs of our readers or others.
While content is frequently updated, medical information changes quickly. Information may be out of date, and/or contain inaccuracies or typographical errors. For questions or concerns, please contact us at contact@ccmhhealth.com.