The Truth about Face Masks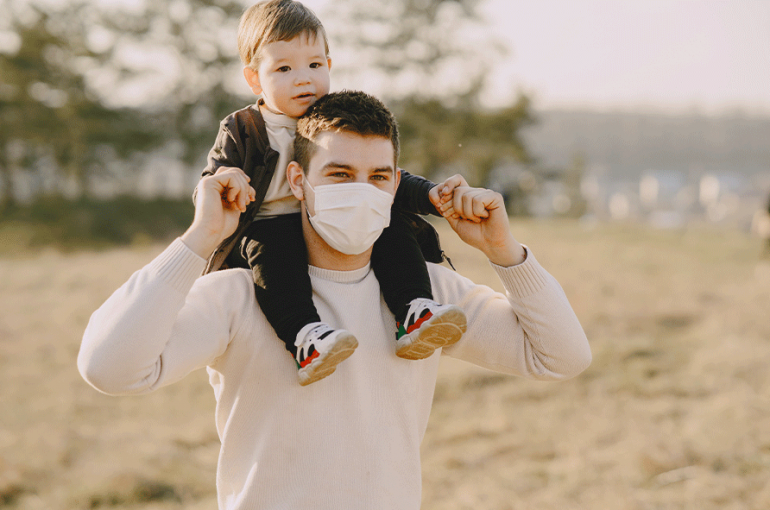 It has been said that we are in a fight against a pandemic as well as a fight against misinformation. Misinformation may even be the bigger fight we face in a world of social media where anyone can easily have a platform and spread information that is not just false, it's dangerous!
One of the trending topics on social media through the COVID-19 fight is whether or not face masks protect you from the spread of a virus. Some articles even claim wearing a mask is more harmful to your health! In this article, we hope to separate fact from fiction and provide a few tips to help protect you and your family from the virus.
How face masks protect from the spread of COVID-19
Can face masks help prevent the spread of the novel coronavirus  (COVID-19)? Most certainly, face masks in combination with other preventive measures such as social distancing, help slow the spread of viruses.
You may wonder why then, were face masks not the recommendation at the start of the pandemic? At the time, experts didn't yet know the extent to which  COVID-19 could spread before symptoms appeared. Nor did we know that some affected persons are asymptomatic. This means that the virus spreads between people interacting in close proximity. For example, vapor droplets spread as individuals speak, cough, or sneeze near each other—even if those people are not exhibiting symptoms.
It is also important to remember that we discussed last week that data shows that individuals may not show symptoms for 2-11 days after infection.
Should you wear a mask?
These discoveries led the U.S. Centers for Disease Control and Prevention (CDC) to recommend face masks for the general public. Some public health groups argue that masks should not be for the general public to protect the supply for health care workers fighting the virus on the "frontlines."  A critical shortage of surgical masks and N95 masks took place at the beginning of the pandemic. The CDC acknowledged this concern and recommended cloth masks for the public, not surgical and N95 masks our health care providers use. The CDC then updated its guidance to simple cloth face coverings in public to help prevent transmission of COVID-19 by those who may have the virus and not know it.
How do different types of face masks work?
N95 masks
N95 masks are actually a type of respirator. They offer more protection than a surgical mask does because it filters out both large and small particles. N95 earned its name because it blocks 95% of very small particles. N95 masks are designed to be disposable. However, research is ongoing to make N95s reuseable.
Surgical masks
Also called a medical mask, a surgical mask fits loosely, is disposable, and protects the nose and mouth from contact with droplets that could contain germs. A surgical mask also filters out large particles. Surgical masks help protect others as they reduce exposure to the respiratory secretions and saliva of the mask wearer.
At this time, the U.S. Food and Drug Administration has not approved any type of surgical mask specifically for protection against the COVID-19 virus, but these masks may provide some protection when N95 masks are not available.
Cloth masks
While the supply of N95s and surgical masks is not great, cloth masks are more accessible, reusable, and easy to make out of a variety of materials. Cloth masks still help slow the spread of COVID-19. Cloth masks help protect others in case the wearer has the virus. An N95 mask, on the other hand, helps protect the wearer from getting the virus. However, if we all do our part, the transmission of the virus as a whole is less to all our friends and neighbors.
Countries that quickly implemented rules regarding testing, face masks, isolation, and social distancing early in the pandemic seem to have had some success at slowing the spread of COVID-19. Common sense, of course, is that some protection is better than none. Wearing a cloth face mask loses all of its value, however, if it isn't combined with frequent hand-washing and social distancing.
Cloth masks are cheap and simple to make. Instructions are easy to find online. Masks can be made from everyday materials, like sheets made of tightly woven cotton. The CDC has published instructions for no-sew masks made from T-shirts and bandanas. Cloth masks should have multiple layers of fabric.
How do I wear a cloth face mask?
Wear a cloth face mask when you are in a public place where it is difficult to maintain social distance, especially in "high traffic" places like the grocery store.
Pointers for mask placement and removal:
Position the mask over your nose and mouth.
Secure the mask behind your head or use ear loops.
Don't touch the mask while wearing it.
Wash or sanitize your hands if you accidentally touch the mask.
Untie the mask or lift it off the ear loops without touching your face or the front of the mask.
Immediately wash your hands after removing the mask.
Wash your mask with soap and water in the washing machine after each wear.
Face mask safety precautions:
Don't put masks on anyone who cannot remove the mask without help, has difficulty breathing, or is unconscious.
Use masks only on those age two and older.
Don't consider face masks as an alternative to social distancing.
Have other questions about COVID-19? Visit ccmhhealth.com/covid-19-resources.
Disclaimer
The Comanche County Memorial Hospital website does not provide specific medical advice for individual cases. Comanche County Memorial Hospital does not endorse any medical or professional services obtained through information provided on this site, articles on the site or any links on this site.
Use of the information obtained by the Comanche County Memorial Hospital website does not replace medical advice given by a qualified medical provider to meet the medical needs of our readers or others.
While content is frequently updated, medical information changes quickly. Information may be out of date, and/or contain inaccuracies or typographical errors. For questions or concerns, please contact us at contact@ccmhhealth.com.