Trails Fest 2022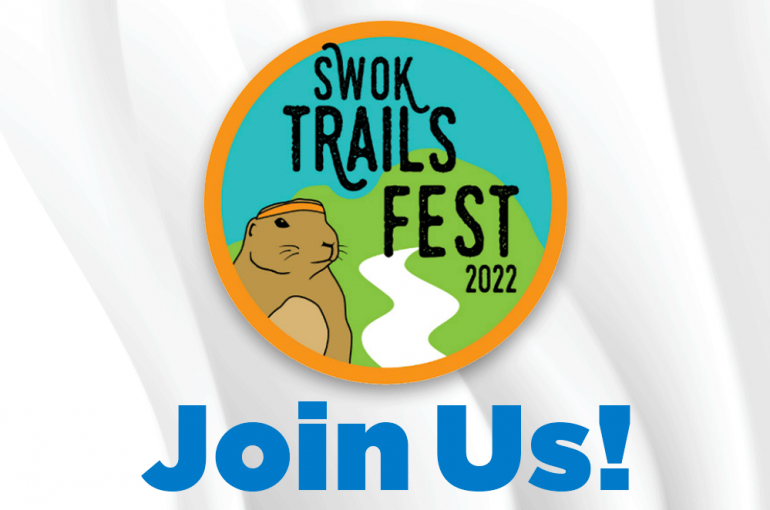 Hit the trails and discover in 24 hours some of the many outdoor recreation and healthy living opportunities offered all year long. Opportunities exist for all age groups and ability levels!
FRIDAY, JUNE 17TH
Elmer Thomas Park- Trails Fest Weekend
Kick off
5pm-9pm: Open Streets Healthy Living Vendor Fair
5pm-5:45pm: Interactive StoryBook Walk
6pm-7:30pm: 5K Splash Fun Walk/Run
8pm-8:45pm: Prairie Dog Fun Bike Ride
Gear up for a full day of outdoor fun on Saturday, June 18th for the activities listed below. Check in at each hub for entries to the event raffle drawings!
SATURDAY, JUNE 18TH
8am-1pm: Fort Sill Hangar, Tour of the Wichitas Bicycle Ride (Registration required at https://tourofthewichitas.com).
9am-5pm: Medicine Park Primitive Camping Ground, Mountain Bike Skills Course (no fee with event wristband, bikes & helmets provided on-site for no charge by Terry's Bicycles & Mountain Bike Club of the Wichitas)
9am-1pm: Wichita Mountains Wildlife Refuge, Animal Olympics & Interpretive Hikes (no fee with event wristband)
10am-12pm: Medicine Park Primitive Campground, Pony rides for children (no fee with event wristband)
10am-3pm: Lake Ellsworth, NE Fisherman's Drive-Horseback Trail Riding (no fee with event wristband, BYOH-participants must bring their own horse, EIA/coggins will be checked)
10am-5pm: Medicine Park Aquarium & Science Center, Garden Trail $5 entry for ages 3+, free under 3 (up to $7 discount per entry with event wristband)
12pm-4pm: Lake Elmer Thomas Recreation Area (LETRA), Paddle Sports (must be able to access Fort Sill, no fee for kayaks, paddle boats, and paddle boards with event wristband)
5:30pm-8pm: Cameron University Fine Arts Courtyard, Trails Fest Art Contest, Fit Kids Imagination Playground and games, raffle drawings based on activity hub check-ins, and closing ceremonies.
For more information, visit: https://facebook.com/fitkidsofswok/events