Traveling During A Pandemic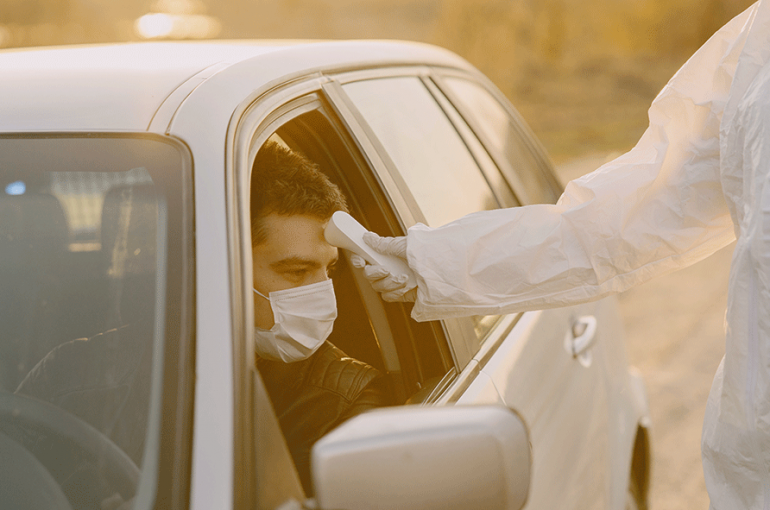 Traveling during a pandemic is an unnerving thought. There may be instances that make it unavoidable for you such as going to care for a sick loved one or traveling for an essential work trip. What if you have to enter an area where the virus is spreading rampantly? What if you are in the middle of the spread and don't even know it? Many concerns probably enter your mind at this time. Having a plan to make your travel as safe as possible will help you feel more in control, decrease any anxiety, and accomplish whatever you need to do.
Before travel 
Prepare your immune system. Travel is often stressful under good circumstances, making illnesses possible. Take as good of care of yourself as possible in days before leaving. Take your vitamins, eat well, and get adequate sleep.
Traveling internationally? Ensure you are up-to-date on all vaccines. Research any common health concerns for travel within your destination and have over the counter medications in case these illnesses arise. Know the country's travel recommendations.
Take hand sanitizer, sanitizing wipes, and sanitizing spray. Pack as many changes of clothes and essentials in a carryon bag as possible if you are traveling by plane including snacks. This helps limit your need to wander within the airport. In fact, if you can avoid checking a bag, this is even better as it helps limit your time within the airport and the germs you come into contact with.
Also, pack items you would be handed in a drive-thru if you plan on purchasing a meal. Having your own utensils, napkins, kleenex, even toilet paper limits your contact with items others have touched.
Have a plan for what you will do if you get sick. Do you have telemedicine available through health insurance? Do you know which clinics are offering care in your destination area? What is the COVID-19 screening protocol for the area?
Research the latest expectations within your destination city as far as shelter in place orders or expectations while being in public.
Driving tips
Take as many items as you can with you to limit your need for stops:
Pack meals, snacks, and bottled water.
Frequently clean often touched areas such as your steering wheel, stereo buttons, and door handles.
Flying tips
If you can print your boarding pass and check-in at home, do!
Arrive on time, but try not to spend more time in the airport than necessary.
Avoid sitting in crowded areas at the airport. As departure time draws near, consider moving to a nearby, but less busy gate as people tend to crowd near the gate.
Expect your travel to be interrupted. Have contingency plans in case flights are canceled.
Some good news is that because of how air circulates and is filtered on airplanes, most viruses and other germs do not spread easily. However, still, remember to practice good hygiene and avoid sitting near those who are coughing or appear sick.
When you reach your destination 
Shower as soon as possible. Place the clothes you wore during travel into a sealed plastic bag.
If you're staying in a hotel, wipe down items that are often skipped by cleaning crews such as door handles, light switches, and TV remotes.
You may be in a less affected area with looser restrictions than your home. However, be considerate. You may be unknowingly bringing the virus to that community!
After returning home 
Consider quarantining yourself for 14 days if possible. If you know for sure you have come into contact with those who have COVID-19, DO quarantine yourself for sure!
Take your temperature a couple times a day.
If you need to seek medical care, let the medical provider know you have traveled before arriving at the facility.
If you have other questions related to COVID-19, check out our COVID-19 resources page.
Source 
National Center for Immunization and Respiratory Disease (NCIRD). 
Center for Disease Control (CDC). 
Disclaimer
The Comanche County Memorial Hospital website does not provide specific medical advice for individual cases. Comanche County Memorial Hospital does not endorse any medical or professional services obtained through information provided on this site, articles on the site or any links on this site.
Use of the information obtained by the Comanche County Memorial Hospital website does not replace medical advice given by a qualified medical provider to meet the medical needs of our readers or others.
While content is frequently updated, medical information changes quickly. Information may be out of date, and/or contain inaccuracies or typographical errors. For questions or concerns, please contact us at contact@ccmhhealth.com.