Trending Diets: Which is best for you?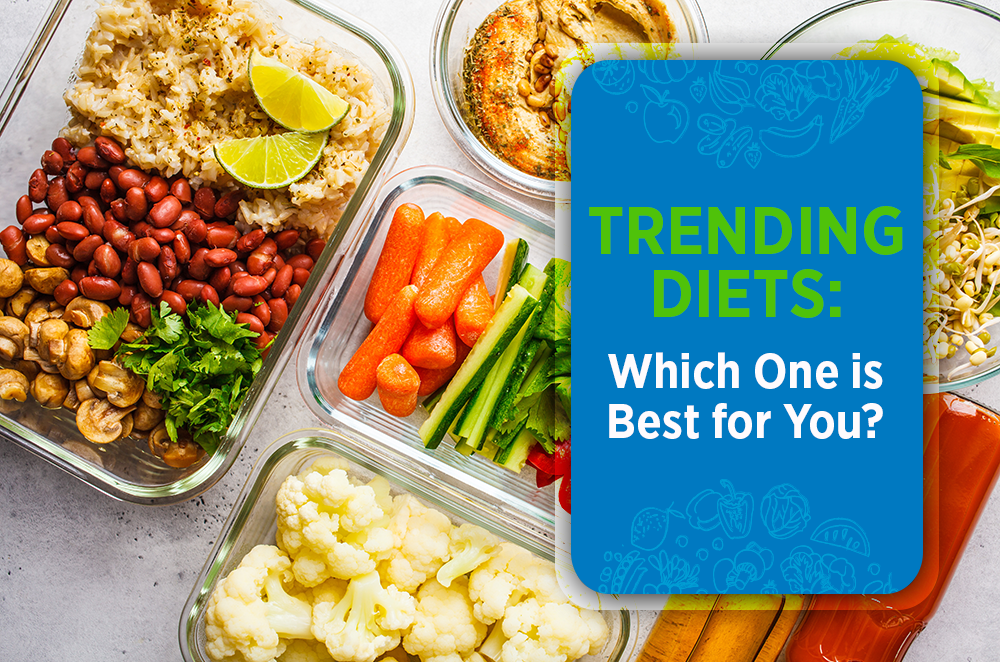 Trending Diets: Which One Is Best For You?
Currently, there are many weight loss diets out there. It's hard to know which ones are worth trying. Some diets focus on a calorie deficit or reducing your appetite, while others restrict carbs and fat. It's important to know that no diet is the best for everyone. A diet that works for you may not work for someone else. We've listed below some of the current trending diets.
Paleo Diet
The Mayo Clinic outlines that the purpose of the paleo diet is to eat foods like our early ancestors. It is based on the idea that our genes are not regulated for modern foods that grew out of farming. For example, foods like grains, legumes, and dairy products.
What to Eat:
Whole foods
Lean protein
Vegetables
Fruits
Nuts and Seeds
What to Avoid:
Processed Foods
Sugar
Dairy
Grains
Benefits of the Paleo Diet:
Weight loss
Lower Blood Pressure
Lower Cholesterol
Lower Triglycerides
Ketogenic Diet
The keto diet is a low-carb, high-fat plan that jumpstarts a metabolic process called ketosis. Ketosis causes your body to burn fat rather than carbs for energy. According to Healthline, it also turns fat into ketones in the liver, which supplies energy for the brain.
What to Eat:
Meat
Eggs
Butter and Cream
Cheese
Healthy Oils
What to Avoid:
Sugary foods
Grains and starches
Fruit
Legumes
Benefits of Ketogenic Diet:
Weight loss
Reduction in Blood Sugar and Insulin
Reduces risk of heart disease 
Vegan Diet
The vegan diet is the strictest form of vegetarianism and restricts all animal products. It consists of a reduced calorie intake and is very low in fat. The diet is also high in fiber which causes you to feel fuller longer.
What to Eat:
Fruits
Vegetables
Whole grains
Legumes
Nuts and seeds 
What to Avoid:
Meat
Dairy
Eggs
Animal-derived products 
Benefits of Vegan Diet:
Weight loss
Reduced risk of heart disease
Reduced risk of type 2 diabetes 
Intermittent Fasting Diet
An intermittent fasting diet controls when you eat foods rather than restricting the foods you eat. It cycles your body between periods of fasting and eating which exhausts the body's sugar stores and starts burning fat.
What to Eat:
Nutrient-rich foods  
What to Avoid:
Desserts and sugary foods
Processed and packaged foods
Benefits of Intermittent Fasting Diet:
Weight Loss
Improves heart health
Reduces inflammation
Reduces blood sugar levels
It is important to check with your doctor about choosing a diet that is best for you. If you need to connect with a physician, try our physician referral line to find a physician that is right for you! 
Resources:
https://www.mayoclinic.org/healthy-lifestyle/nutrition-and-healthy-eating/in-depth/paleo-diet/art-20111182#:~:text=A%20modern%20paleo%20diet%20includes,began%20about%2010%2C000%20years%20ago.
https://www.healthline.com/nutrition/vegan-diet-guide#other-benefits
https://www.healthline.com/nutrition/ketogenic-diet-101
https://www.hopkinsmedicine.org/health/wellness-and-prevention/intermittent-fasting-what-is-it-and-how-does-it-work
Disclaimer
The Comanche County Memorial Hospital website does not provide specific medical advice for individual cases. Comanche County Memorial Hospital does not endorse any medical or professional services obtained through information provided on this site, articles on the site or any links on this site.
Use of the information obtained by the Comanche County Memorial Hospital website does not replace medical advice given by a qualified medical provider to meet the medical needs of our readers or others.
While content is frequently updated, medical information changes quickly. Information may be out of date, and/or contain inaccuracies or typographical errors. For questions or concerns, please contact us at contact@ccmhhealth.com.