Why Become an Organ Donor?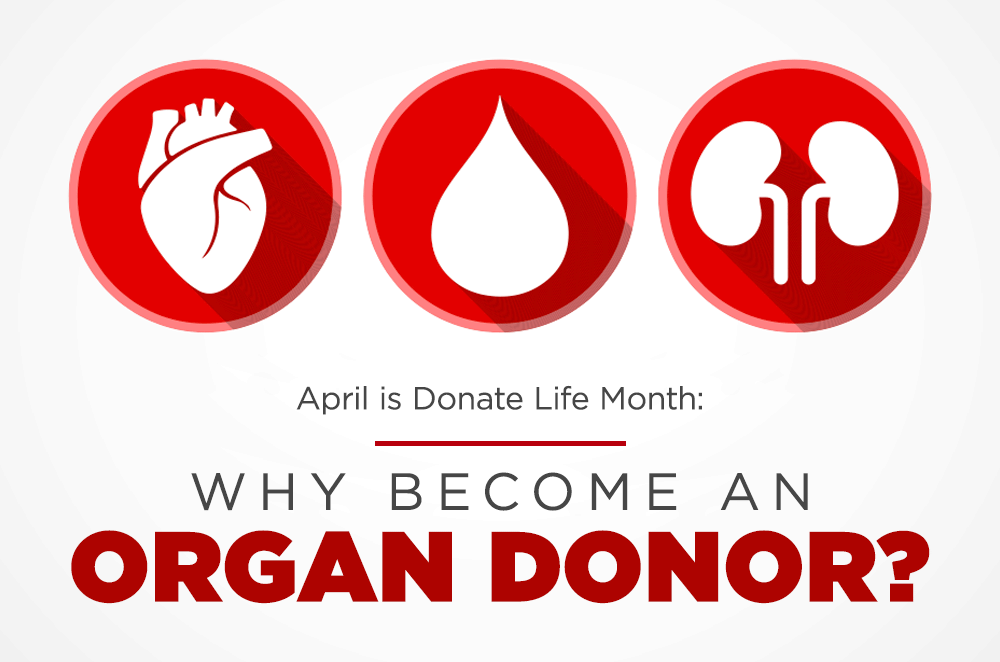 Why Become an Organ Donor? 
April is National Donate Life Month to help raise awareness about donating, encourage people to become organ donors, and honor those who have given the gift of life through their organs. While most Americans support organ donation, only 48% of U.S. Americans who are eligible are registered organ donors. If you're on the fence about becoming an organ donor, here are some insightful reasons to help you decide. 
The Need is Tremendous
Every day, around 17 U.S. adults and children die due to not receiving an organ from the National Transplant List. Not only that but every 10 minutes, a new name is added to the list. 
From the National Transplant List, these are the average number of organs needed for transplants in the U.S.*
Lung: 960

Liver: 10,625

Kidney: 89,901

Heart: 3,365

Pancreas: 857

Other: 2,141
One Donor Can Save Many Lives
Through just one donor, a potential of eight lives can be saved and over 70 people can be healed. Not only that but people who donate their corneas can restore sight to two different people. Two donated kidneys can free two different patients from dialysis treatments. One donated liver can save two patients on the waitlist, and two donated lungs mean two patients are given a second chance!
One tissue donor — someone who can donate bone, tendons, cartilage, connective tissue, skin, corneas, sclera, and heart valves and vessels — can impact and heal the lives of as many as 75 people.
More Diverse Donors Are Needed
Organ donors with diverse backgrounds are extremely critical to help those on the National Transplant List. While organ donation is not matched by ethnicity and race, organ donors will generally have a better chance of matching with someone of a similar background. 
From the Organ Procurement and Transplant Network, More than 100,000 people are waiting for an organ donation today in the U.S. – and 60% of them are a racial or ethnic minority. African American make up the largest group of patients in need of an organ transplant in the U.S. (28.5% of all candidates), yet the pool of potential donors do not correlate.
Healthy People Can Become A Living Donor
While you may already be registered as an organ donor, you can take the steps to help save people's lives today, while you are healthy! People who are healthy, qualify to become a living donor. A Living Donor transplant is simply a surgical procedure to remove an organ or a part of your organ to help a patient in need. 
Living donors can also donate a portion of their livers to help someone in need. The remaining liver will regenerate, or grow back, to nearly its original size, and will function properly. This is almost the same as a living donor kidney transplant. Individuals can donate one of their two kidneys and the remaining kidney is able to perform its functions properly.
From the Mayo Clinic, More than 5,700 living-organ donations are reported each year in the United States.
Becoming a donor is a tough decision but can be highly rewarding. During Donate Life Month every April, we honor all the donors and their families for their life-saving generosity and compassion. Make a change in our world and become an organ donor today. To register in Oklahoma, you can visit your local DMV office when you receive your license, or you can visit LifeShare Oklahoma.  
Sources: 
*As of January 2023, UNOS/U.S. Department of Health and Human Services Organ Procurement and Transplant Network, https://optn.transplant.hrsa.gov/ 
https://health.clevelandclinic.org/why-become-an-organ-donor-because-you-could-save-many-lives/ 
https://www.pennmedicine.org/updates/blogs/transplant-update/2023/april/6-quick-facts-about-organ-donation 
https://www.mayoclinic.org/tests-procedures/living-donor-transplant/about/pac-20384787?mc_id=us&utm_source=newsnetwork&utm_medium=l&utm_content=content&utm_campaign=mayoclinic&geo=national&placementsite=enterprise&invsrc=other&cauid=100721