Wound Care Recognized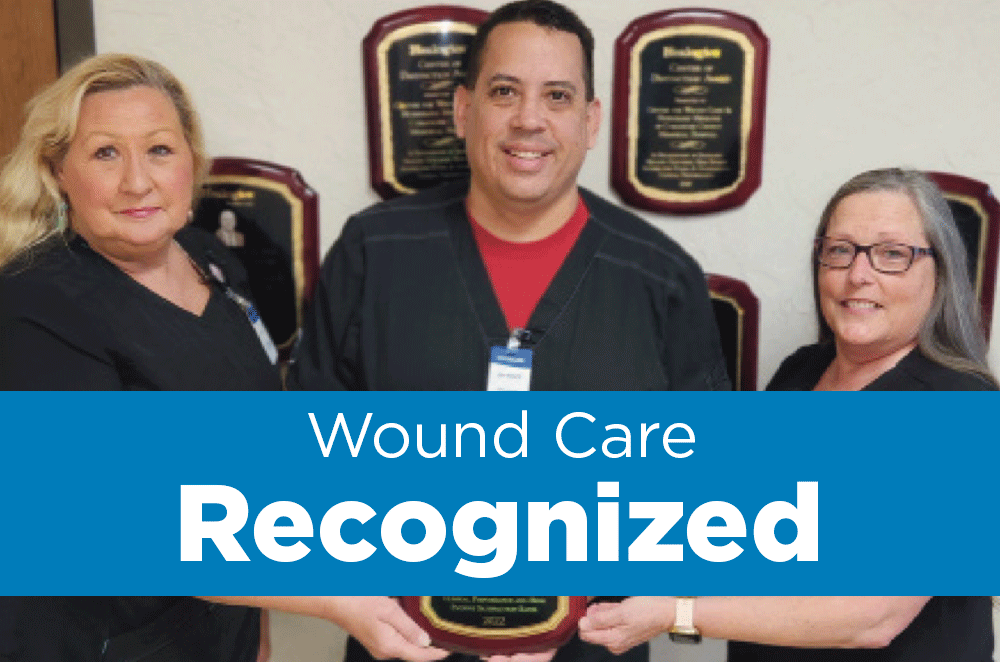 Comanche County Memorial Hospital physicians, leaders, and clinicians recently gathered to recognize the Center for Wound Care and Hyperbaric Medicine as a recipient of the Center of Distinction award by Healogics®, the nation's largest provider of advanced wound care services. The Center achieved outstanding clinical outcomes for twelve consecutive months, including a patient satisfaction rate higher than 92 percent.
The Center for Wound Care and Hyperbarics is a member of the Healogics network of over 600 Wound Care Centers® and offers highly specialized wound care to patients suffering from diabetic foot ulcers, pressure ulcers, infections, and other chronic wounds that have not healed in a reasonable amount of time.
The incidence of chronic wounds is rising due to our aging population and increasing rates of diseases. A person with a wound has an average of three to four chronic conditions such as diabetes, PAD, cardiovascular disease, and COPD. If left untreated, chronic wounds can lead to a diminished quality of life and possibly amputation of the affected limb. Even more alarmingly, 50 percent of people die within five years of amputation.
Advanced wound care modalities provided by our wound care experts include negative pressure wound therapy, total contact casting, bioengineered tissues, biosynthetic dressings, and growth factor therapies. The Center also offers hyperbaric oxygen therapy, which works by surrounding the patient with 100 percent oxygen to help progress the healing of the wound.
Please join us to raise awareness of the risks of chronic wounds during the tenth annual Wound Care Awareness Week, June 5-9, and throughout the month. Through the 2023 Come Heal With Us program and resources, we will focus on educating the underserved chronic wound population about the importance of early detection and treatment of chronic wounds.
The Center for Wound Care and Hyperbaric Medicine offers advanced therapies to patients suffering from chronic wounds. For more information, please call them at 580.357.3280.