Youth Sports Week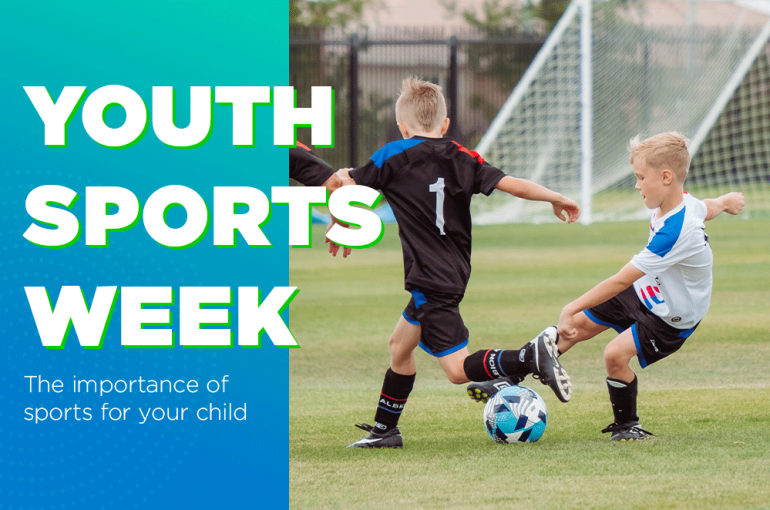 Celebrate Youth Sports Week
July 20-26 is named Youth Sports Week. It is dedicated to bringing awareness to fitness for children. Additionally, it promotes the importance of youth sports and encourages local municipalities to continue their youth sports programs. Let's celebrate Youth Sports Week by learning about the significance of sports for our kids. The National Council on Youth Sports' mission is to allow all youth the opportunity, access, and motivation to participate. 
Keeping up with Physical Activity
Physical activity is important for all ages. For children aged 6-17, it is recommended to devote 60 minutes a day to physical activity. There are 3 main types of physical activity goals we can focus on:
Aerobic Activities – These activities focus on increasing heart rate. These can include swimming, running, and biking. 

Muscle Strengthening – These focus on gaining muscle mass and increasing overall strength through activities such as rock climbing, push-ups, and swinging on monkey bars.

Bone Strengthening – Anything that puts pressure on your bones to perform is considered a bone-strengthening exercise.
It is important to remember that activity for your child does not always have to be a planned and organized exercise session. Physical activity can be disguised as family fun at the pool or playing with friends at the playground. Signing your child up for youth sports is a great way to ensure that your child is meeting his or her physical activity requirements while also building life skills. 
Life Skill Benefits from Youth Sports
When a child is involved in youth sports, it lays a foundation for skills that the child will need later on in life. From memorizing game rules to respecting the officials who are implementing those rules, children are given an amazing opportunity to learn life skills while having fun playing youth sports. Some other beneficial skills include:
Learning creative ways to stay active

Teamwork

Leadership

Work ethic

Perseverance

Equality
Participating in sports, whether it's within a team, like football, or on their own, like swimming, the benefits of sports go far beyond just the activity itself. 
How You Can Be a Role Model at Home
One of the goals of youth sports week is to promote the mission of the National Council of Youth Sports, which includes every child feeling motivated to participate in sports. This motivation is something that can easily be carried well into adulthood. Additionally, when kids see the adults around them being motivated to stay active, they tend to become motivated as well. Here are some ways you can be a role model at home and set an example when it comes to staying active:
Build time for activity into a family routine. Plan to take morning walks or evening football games in the backyard. 

Spread positivity to your child when your child attempts a new skill. Say things like "I am proud to watch your game today" or "You have perseverance, you will master this skill soon." 

Encourage your child to try new things and when your child decides that he or she does not like the sport they tried out, that is okay! It means your child is working hard to find what suits them the best. Encourage different ways of movement for your child! 
Remember, youth sports for your child is a time for exploring, learning, and trying new things. It is also a great opportunity for you to get back into fitness as well! Sign your child up for sports and see the benefits as your child grows. 
Resources:
https://health.gov/our-work/nutrition-physical-activity/national-youth-sports-strategy/about-national-youth-sports-strategy
The Comanche County Memorial Hospital website does not provide specific medical advice for individual cases. Comanche County Memorial Hospital does not endorse any medical or professional services obtained through information provided on this site, articles on the site or any links on this site.
Use of the information obtained by the Comanche County Memorial Hospital website does not replace medical advice given by a qualified medical provider to meet the medical needs of our readers or others.
While content is frequently updated, medical information changes quickly. Information may be out of date, and/or contain inaccuracies or typographical errors. For questions or concerns, please contact us at contact@ccmhhealth.com.