Comanche County Memorial Hospital is the ONLY hospital in the region offering the Mako™ robotic arm-assisted joint replacement system that allows orthopedic surgeons to perform total hip and partial knee replacements with unparalleled precision and accuracy. State-of-the-art Mako™ robotic arm-assisted technology allows our doctors to perform surgeries that are safer, more accurate, and are customized just for you.
The Mako™ system enables surgeons to personalize partial knee and total hip arthroplasties to achieve optimal results at a level of accuracy and reproducibility previously unattainable with conventional instrumentation.
The Mako™ system features a patient-specific visualization system and proprietary tactile robotic arm technology that is integrated with intelligent surgical instruments. It assists surgeons in pre-planning and in treating each patient uniquely and with consistently reproducible procedure.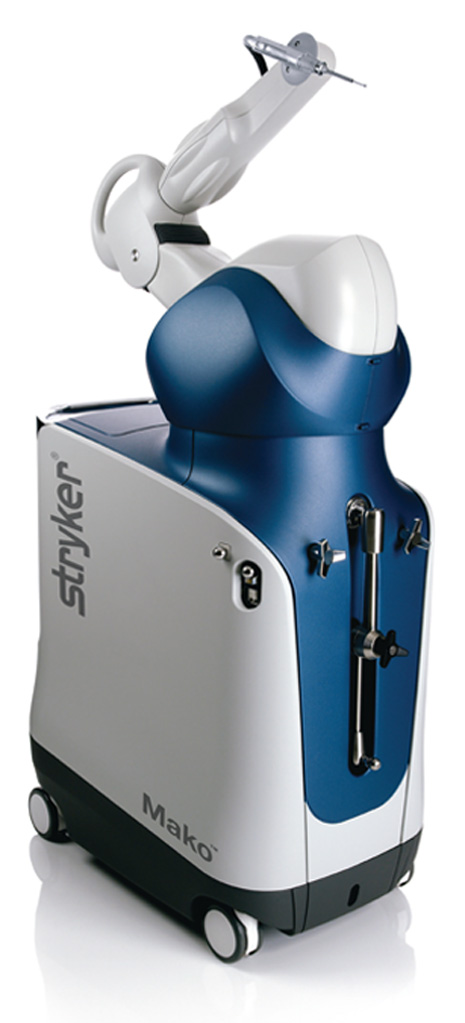 Mako™ Total Hip Replacement
During Mako™ Total Hip Replacement surgery, the Mako™ system provides visualization of the joint and biomechanical data to guide the bone preparation and implant positioning to match the pre-surgical plan. After first preparing the femur or thighbone, the surgeon uses the robotic arm to accurately ream and shape the acetabulum socket in the hip, and then implant the cup at the correct depth and orientation. The surgeon then implants the femoral implant.  The Mako™ procedure offers the confidence of more accurate cup placement and accurate leg length restoration.
What is Mako™ Total Hip Arthroplasty?
Mako™ is a robotic arm assisted total hip replacement procedure designed for those suffering with inflammatory or non-inflammatory degenerative hip joint disease (DJD). Using real-time information and images of your hip, your surgeon knows and controls accurate implant placement, which can be difficult to achieve with traditional total hip replacement techniques without a robotic arm.
What is Degenerative Joint Disease (DJD)?
Degenerative joint diseases (DJDs) are chronic conditions often resulting in pain and the loss of an active lifestyle and quality of life. There are different types of DJD that can affect the hip, including:
Osteoarthritis (OA), in which cartilage wears down over time
Post-traumatic arthritis, which results from a severe fracture or dislocation of the hip
Rheumatoid arthritis (RA), inflammatory arthritis of the joints
Avascular necrosis (AVN), a condition where the "ball" or femoral head of the hip joint has lost a healthy supply of blood flow causing the bone to die and the femoral head becomes misshaped
Hip dysplasia, a condition where bones around the hip joint did not form properly, which may cause misalignment of the hip joint
Mako™ Total Hip Arthroplasty Benefits May Include:
Accurate placement of your hip implant using the surgeon-controlled robotic arm system, which can reduce the likelihood of hip dislocation
More consistency in leg length, potentially decreasing the need for a shoe lift
Decreased risk of the implant and bone abnormally rubbing together – this may improve the lifetime of the implant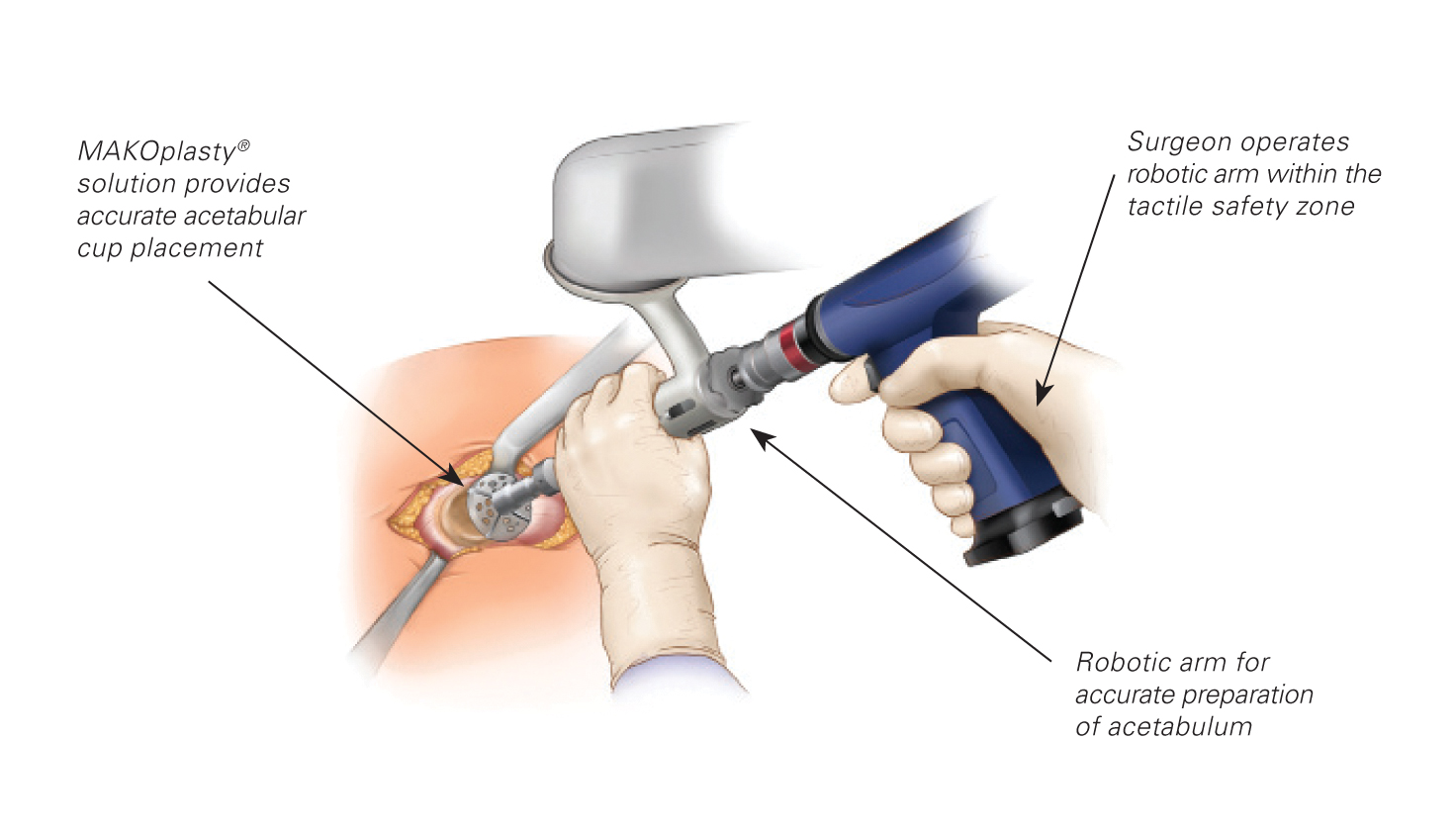 What Causes Degenerative Joint Disease?
The risk of developing symptomatic degenerative joint disease is influenced by multiple factors such as age, gender, and inherited traits that can affect the shape and stability of your joints. Other factors can include:
A previous hip injury
Repetitive strain on the hip
Improper joint alignment
Being overweight
Exercise or sports-generated stress placed on the hip joint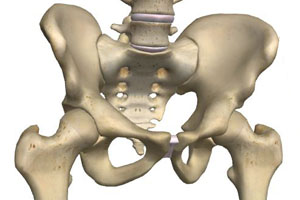 Mako™ total hip arthroplasty is designed to achieve a new level of precision using the latest techniques in total hip replacement and is designed to restore mobility and an active lifestyle. If your surgeon determines that you are a good candidate for Mako™ total hip arthroplasty, he or she will schedule a computed tomography (CT) scan of your hip one to two weeks prior to your surgery date. This is used to create your unique surgical plan for optimal implant placement.
Your physician should discuss the specific risks associated with Mako™ and other treatment options with you. In addition, you should be informed of any pre-operative and post-operative instructions by your surgeon or his or her staff. As a total hip arthroplasty procedure, Mako™ is typically covered by insurance.
Mako™ Partial Knee Resurfacing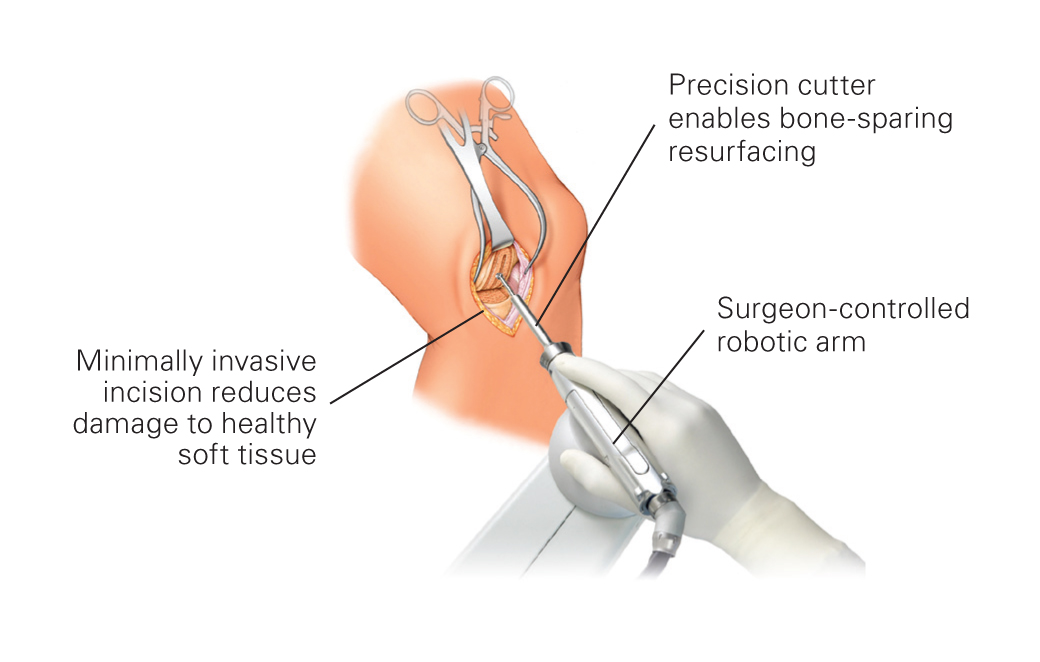 What is the Mako™ robotic arm-assisted joint replacement system?
Mako™ Partial Knee Resurfacing is an innovative treatment option for adults living with early to mid-stage osteoarthritis that has not progressed to all three compartments of the knee. The Mako™ system allows for consistently reproducible precision in performing partial knee resurfacing. During the procedure, the diseased portion of the knee is resurfaced, sparing the patient's healthy bone and surrounding tissue. An implant is then secured in the joint to allow the knee to move smoothly again. Mako™ Partial Knee Resurfacing can:
Provide a more natural feeling knee following surgery
Result in a more rapid recovery and shorter hospital stay than traditional knee replacement surgery
Be performed on an outpatient basis
Promote a rapid relief from pain and return to daily activities
As a knee arthroplasty procedure, Mako™ is typically covered by most Medicare-approved and private health insurers.
Who would be a good candidate for the Mako™ procedure?
Typically, Mako™ patients share the following characteristics:
Knee pain with activity, usually on the inner knee and/or under the knee cap
Start up knee pain or stiffness when activities are initiated from a sitting position
Failure to respond to non-surgical treatments or nonsteroidal anti-inflammatory medication
How may Mako™ benefit me?

The Mako™ Partial Knee Resurfacing procedure is designed to relieve the pain caused by joint degeneration and potentially offers the following benefits:
Improved surgical outcomes
Less implant wear and loosening
Joint resurfacing
Bone sparing
Smaller incision
Less scarring
Reduced blood loss
Minimal hospitalization
Rapid recovery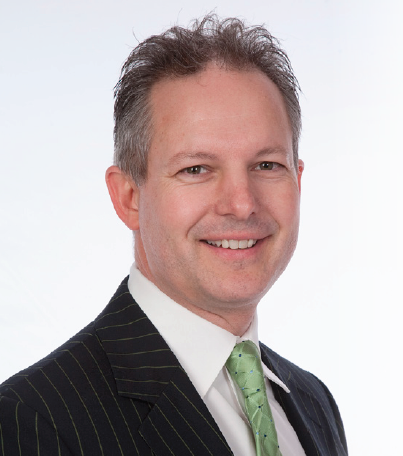 Dr. Clint Kirk, DO
Orthopedic Surgeon