Heart & Vascular Services
Oklahoma's Best Cardiologists & Leaders in Heart Surgery
From the doors of our trauma center, to our state-of-the-art cardiac catheterization laboratories. From the operating room, to our dedicated Coronary Care, Intensive Care and Cardiovascular Care units. We get to the heart of the matter – working together. If you or a loved one has a heart problem, this is where you want to be. The only comprehensive heart program in Southwest Oklahoma.
If you or a loved one has a heart problem, the doctor and the hospital you choose may be the most important decision of your life. To make the right choice, take the H.E.A.R.T. test.
Here Do your doctors live here and work here in Southwest Oklahoma where they can be responsive to your medical needs, when you need them? Are they your friends and neighbors who care about you, your family and our community?
Emergency Care In an emergency, when seconds count, do they have cardiologists and cardiovascular surgeons available here 24/7/365 to perform life-saving procedures?
Advanced Heart Procedures & Surgery Can they perform advanced diagnostic and interventional procedures and heart surgery?
Reputation Do they have years of experience in comprehensive heart care and a reputation for excellence?
Technology Do they have advanced and innovative technology and equipment?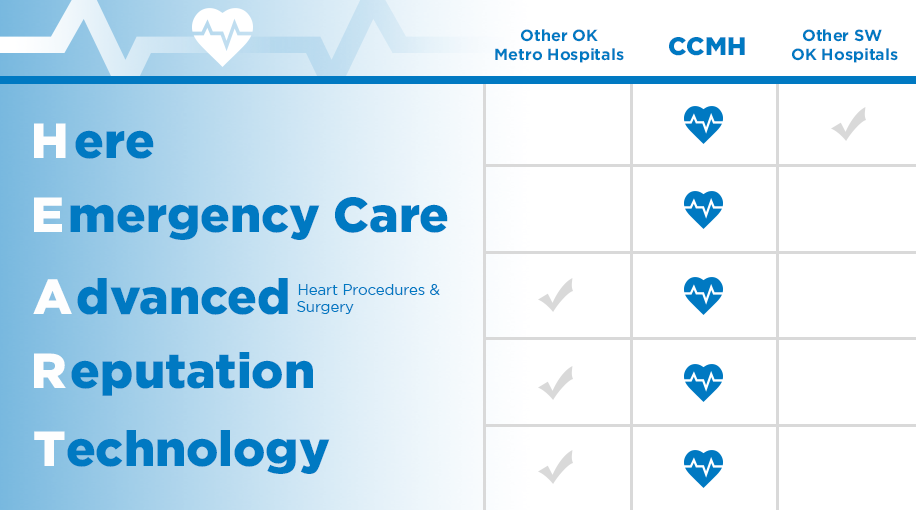 Heart & Vascular Classes at CCMH
PROFESSIONAL TRAINING BY THE AMERICAN HEART ASSOCIATION (AHA)
Our Education Department is a Training Center for the American Heart Association. We offer 7 American Heart Association classes for Healthcare Providers and non Healthcare Providers (Lay People).
BLS ( Basic Life Support)
ACLS ( Advanced Life Support)
PALS ( Pediatric Advanced Life Support)
HSAFA ( HeartSaver Adult First Aid and CPR)
HSPFA ( HeartSaver Pediatric First Aid and CPR)
HSCPR ( HeartSaver CPR)
HSFA ( HeartSaver First Aid)
We offer 2 Emergency Nurse Association Courses.
ENPC (Emergency Nurse Pediatric Course) and TNCC (Trauma Nurse Core Course).
Please contact the Education Department for more information at 580.585.5527.