Cancer Care
---
Contact Us
Leah M. Fitch Cancer Center
Lawton Campus
104 NW 31st Street
Lawton, Oklahoma  73505
580.536.2121

Those who live in Southwest Oklahoma share a unique survivor's spirit and a sense of pride. While every Oklahoma town and city is proud to be unique, there's a common bond. An attitude that says, "We're in this together."
When you're diagnosed with cancer, everything can feel overwhelming. Our entire team of doctors, nurses and other health professionals at the Cancer Centers of Southwest Oklahoma are dedicated to helping you feel comfortable and supported throughout your treatment journey. We offer personalized treatment options with state-of-the-art technologies and access to clinical trials, so you have every opportunity to fight the disease.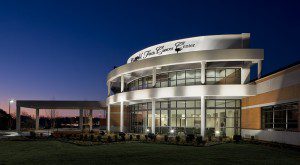 Our dedication to the citizens of Southwest Oklahoma
In true Southwest Oklahoma spirit, three community hospitals in three unique communities joined hands to make life better for those who face cancer treatment. Together, Comanche County Memorial Hospital in Lawton, Duncan Regional in Duncan and Jackson County Memorial in Altus combined their resources and expertise to create a new tradition in healthcare – Cancer Centers of Southwest Oklahoma. With cancer treatment centers in each community, patients can receive the care they need, close to home. In June 2017, Cancer Centers opened its newest location in Chickasha.
Our Services
Following the patient's diagnosis and the development of a treatment plan by our Board-Certified Physicians, licensed and certified chemotherapy nurses and radiation therapists begin administering treatments.
These services include:
Chemotherapy
Hematology and Blood Disease
Immunotherapy
Targeted Cancer Therapy
Radiation Therapy

Three-dimensional conformal Radiation Therapy

Stereotactic Radiation Therapy (SBRT)

Intensity Modulated Radiation Therapy (IMRT)

Image-Guided Radiation Therapy (IGRT)

Surface-Guided Radiation Therapy (SGRT)

Electron Beam Therapy

Brachytherapy (High dose rate)

Adult Dermatology for Suspected Cancers
Telegenetic Counseling
Research and Clinical Trials
Full-Service Laboratory
We care for the whole patient
While you'll always have our entire team at your side for support, we also provide an oncology patient navigator to take care of your physical and emotional needs, comforting you on the bad days and celebrating with you and your loved ones on the good days. We also offer a wealth of other additional support services in the form of financial services, social services, pastoral care, pet therapy, registered dietitians, and support groups.
Our compassionate physicians
Together, our physician have dedicated their knowledge and experience in treating thousands of patients, right here in Lawton. Please contact the Cancer Center for hope and healing, right here at home. To learn more, visit ccswok.com
We are proud recipients of the awards shown below.