The Martha Lou Lawson Chaplaincy Center is named for a long-time member of the Comanche County Memorial Hospital Board of Trustees – Martha Lou Lawson. Mrs. Lawson believed the Chapel to be a natural extension of the care provided at Comanche County Memorial Hospital, serving those seeking compassionate and prayerful consolation.
The Martha Lou Lawson Chaplaincy Center operates under the philosophy that every person is unique and deserving of compassionate and respectful pastoral care. From this guiding principle, it is our aim to provide spiritual support for all persons regardless of age, race, gender, sexual orientation, national origin or faith affilitation.
SERVICES OFFERED:
Services offered to patients:
Daily bedside visitation with patients
Sacraments, ordinances and blessings as requested by patients
Mobilize religious and spiritual resources to contribute to the healing process
On-going pastoral care and support
Services offered to the community:
Liaison for local clergy
Referral to and from agencies and clergy
Educational opportunities for local clergy and their congregations
Assistance with Advance Directives
Services offered to families:
Spiritual and emotional support during times of anxiety, long-term illness, trauma and death
Celebration and thanksgiving during times of good news, recovery and birth
Chapel services
Prayer Ministry (prayer requests placed in the Chapel prayer box are collected and prayers offered daily)
Services offered to hospital personnel:
Pastoral care and counseling
Friendship and encouragement
Prayerful support
Care for the caregiver through support groups, educations, informal visitation and devotional opportunities
Clergy Luncheons
Five times a year the Lawson Chaplaincy Department hosts free luncheons for clergy that address topics relevant to pastoral care ministry. Clergy luncheons are an opportunity to enhance one's own learning and meet fellow ministers in our community. To learn more about upcoming luncheons contact Chaplain Paul Gore (580) 355-8699, ext. 3172.
When Pastoral Care involves Tragedy
When Pastoral Care involves the Police
When Pastoral Care involves the Risk of Suicide
When Pastoral Care involves Domestic Abuse
When Pastoral Care involves the Prison System
When Pastoral Care involves Alzhiemers and Dementia
When Pastoral Care involves Mental Illness
When Pastoral Care involves Hospice
What Pastors Need to Know about Human Trafficking
The Spiritual Struggles of Aging
The Place and Care of Pastoral Grief
The Minister's Self-Care
WAYS TO GIVE BACK
The Foundation
If you would like to support the on-going work of the Martha Lou Lawson Chaplaincy Center, you can make a donation to the Chapel Fund by visiting ccmhhealth.com/waystogive or by calling 580.250.5989. 15% of all gifts to the CCMH Foundation will be designated to the General Endowment fund. Please make checks payable to the CCMH Foundation.
To Volunteer
If you are interested in volunteering with the Martha Lou Lawson Chaplaincy Center, call 580.335.8699 ext. 3172.
SUPPORT 24/7
The Chapel welcomes visitors 24-hours a day, seven days a week, offering patients, their families and medical staff a place to pray, seek spiritual counsel, grieve and heal.
The Chaplaincy Center is located on the first floor of the hospital in close proximity to surgery, ICU, CVCU and emergency department waiting areas. The Center consists of an office, a consultation room, and the Community Chapel.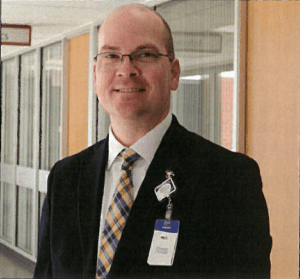 The Chaplaincy Center is staffed by a board-certified chaplain and a team of volunteers who serve as on-call chaplains.
The on-call chaplains program consists of local clergy from throughout the Lawton community representing a variety of faith traditions.
As a valuable part of the hospital's multi-disciplinary treatment regimen, chaplains are available around-the-clock and are committed to providing an interfaith ministry of compassion and support to all people.
The hospital chaplain is on-site Monday through Friday and may be reached by calling extension 3172. After hours, on-call chaplains are available upon request, 24-hours a day by dialing "0" and asking for the House Supervisor.
GRIEF EDUCATION & SUPPORT
Mourning and Meaning is a 10-week grief education and support group for anyone grieving the loss of a loved one. Participants will receive a copy of the book, Understanding Your Grief, by Alan D. Wolfelt, Ph.D. For more information or to register call the Lawson Chaplaincy Center at 580-355-8699, ext. 3172
Fall session meets September-November.Spring session meets March-May.
Groups meet on Mondays at 4:00pm
Meetings are held at the Lawson Chaplaincy Center
Facilitators are Chaplains Paul Gore and Daniel Litchford
Address
3401 W Gore Boulevard
Lawton, Oklahoma 73505