Support Services
In an effort to make sure we did not leave anything out, we offer additional services to help you get back in the swing of things. This list is not inclusive of everything we provide, but it will give you an idea of what we offer in addition to the services listed under rehabilitation.
Easy Street Environment
Family/Caregiver Training
Prosthetic Training
Car Transfers
Home Evaluations
Individualized Therapy & Care Planning
Use of Adaptive Equipment
Caregiver Support Group
Social Services
Case Management
Hand Therapy
Driving Assessment Simulator
Behavioral Health Services
Swallow Retraining
Community Integration
PATIENT AND FAMILY EDUCATION AND SUPPORT
Social Services/Case Management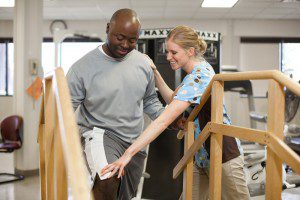 A care manager assists each patient and family with counseling, education, individualized discharge planning and community referrals to aid in the transition to home.
Patients requiring inpatient rehabilitation may be admitted to Jim Thorpe Rehabilitation at Comanche County Memorial Hospital.
Under the supervision of a physiatrist (a physician who specializes in rehabilitation), a treatment team of physicians, nurses, therapists, dietitians, social workers and case managers work together with patients and their families to set realistic goals, develop treatment plans and monitor progress of all patients.
Patients and their family are very important members of this team, and are encouraged to ask questions throughout their stay. The more our patients understand about why they require rehabilitation, how their program works, and what to expect in the future, the more effective we can be in working together.
The entire treatment team meets weekly to review each patient's goals and progress. Following this meeting, a clinician meets with the patient or family, as appropriate, to share new goals and information. Our nurses and other team members are always available to answer questions.
Whenever possible, we encourage prospective patients and their families to visit the Rehabilitation Center prior to admission to become familiar with the program and staff and to discuss expectations for the patient's rehabilitation.
GOING HOME
To help our treatment team evaluate a patient's readiness to return to the community, a patient may be scheduled for a short pass away from the hospital, and/or a brief stay in the transitional living apartment. Here, a patient can practice living alone or with a spouse in a typical home environment. Trying out new skills in this protected environment helps patients build confidence and reduces the anxiety of leaving the hospital.
Home Evaluations
To better serve the safety and physical needs of our patients, a home evaluation will be conducted by the appropriate staff members if a need is indicated by the rehabilitation team and staff.