Emergency Medical Conditions
Emergency medical conditions are those in which the immediate onset of symptoms, including severe pain, leads a prudent layperson acting reasonably to believe that immediate medical attention is needed to avoid serious impairment of organs or bodily functions or a serious threat to the health of the individual or a fetus.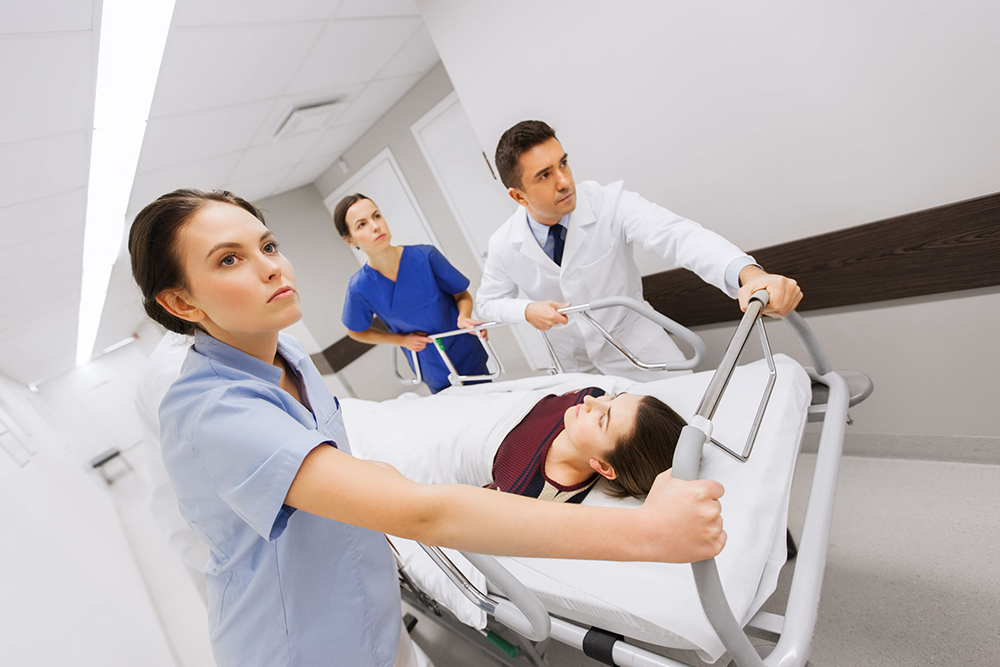 Emergency Medical Conditions Include:
Being Prepared: Emergency Information You Can Carry
Nearly one out of every three Americans visits the emergency room each year. Sometimes you might need to go to the ER for a minor cut or burn. In these cases, you can easily answer any questions the doctors may have about your medical history. But if you are seriously hurt and can't speak for yourself, doctors need to access important health information in order to properly treat your condition. By carrying emergency medical information at all times, you can make sure your personal medical history and related information are always readily available. Doing this could even save your life.
Other Serious Conditions
Other serious conditions could be considered emergencies if they require immediate treatment to prevent serious complications. Examples include deep cuts, broken bones, chest pain, seizures, and suspected poisoning. Sudden onset of severe headache or abdominal pain, as well as shortness of breath, may also be considered emergencies.
Important Medical Information
You should complete the following medical information forms in case you have to go to the ER. These forms include vital information that can be used to effectively treat you or a loved one in an emergency. The following forms should be completed and continually updated with the most current information.
Medical Identification Card
You should carry a medical identification card in your wallet or purse. The card should contain your personal medical history (see above), your health insurance information, and the name and number of your primary care physician. If you have a special health condition, like epilepsy, consider wearing some type of medical identification jewelry. Emergency doctors are trained to look for these forms of identification before treating a patient.
Medical Contact Information
Keep the name and number of someone the ER doctors can call when you go to the hospital.
Personal Medical History
Make a list that contains information related to prescription medications, medical problems or previous surgeries, pertinent family history and contact information for people the doctors can call in an emergency
Medical Consent to Treat Form
Anyone who comes to the ER will always receive life-saving care, but it's important to authorize someone to make medical decisions should you be unable to do so because of illness or injury. This form is especially important for parents who keep their children in daycare. By completing this form, you designate a particular person to make decisions about medical care for you or a family member
Knowing Your Loved One's Medical Information in Case of An Emergency
By writing down the medical information of everyone in your family, you can be sure the ER doctors have the correct information for treatment. Experts recommend you have the following information up to date for each member of your family in case of an emergency:
Allergies: Write down the allergies of each member of your family, including any adverse reactions to penicillin or antibiotics. Be sure to include any allergies to food as well. Some people have a latex allergy, which is important to know if those treating you intend to wear latex gloves.
Medications: Your medical record should also include a list of any medications, including their dosages, which you and your family members take on a regular basis. Some medications react badly when they are taken together, so the ER doctors need this information before they give you any other medications.
Blood Type: If you know your blood type, it is helpful to include this in the medical record. If you need an emergency blood transfusion, your doctors will use type O negative, which is compatible with all blood types.
Pre-Existing Conditions: Note if you or anyone in your family has asthma, diabetes or heart disease. Having these conditions can help determine what kind of treatment you will receive in the ER.
Height and Weight: It's also a good idea to include the current height and weight of every family member, including yourself, in your record. Although weight can change over time, it is important to include this since it may enable doctors to more accurately calculate the appropriate dosage of medication needed.
Immunizations: Keeping an up-to-date record of immunizations can help ER doctors diagnose a problem quickly, allowing them to rule out certain diseases or conditions if they know you have recently been immunized against them. Include your entire immunization history from childhood to the present in your record.
Address
3401 W Gore Boulevard
Lawton, Oklahoma 73505