Contact Us
MMG Gynecology and Obstetrics
102 NW 31st Street
Lawton, Oklahoma  73505
580.353.6790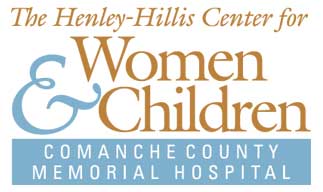 We offer educational classes to moms- and dads-to-be to help them be more prepared for what is ahead.
Labor & Delivery Tours
Are you expecting? The Henley-Hillis Center for Women & Children at Comanche County Memorial Hospital would like to invite you to tour their Labor & Delivery area. Tours are held every Thursday at 11:00 am, beginning in the main hospital lobby. As a way to say "thank you", every expectant mother who attends will receive a free gift.
Childbirth Education
Your first step in preparing for the miracle of birth is to take our Childbirth Education Classes. Designed for couples expecting for the first time or those who need a refresher, this series of informational classes will teach you the basics about giving birth, including what to expect during labor and delivery, BVAC, C-section, and unmedicated birth.
You'll learn breathing and relaxation techniques that will help you remain more comfortable and focused during the birthing process, and we'll even hold a "labor rehearsal" enabling you to get a feel for each stage of labor and delivery. Mother and baby care topics are also covered, giving you the skills you'll need after returning home with your newborn.
The Childbirth Education Classes are taught by experienced nurses who are certified in childbirth education.
The class includes three sessions and is free of charge if you deliver your child at Comanche County Memorial Hospital.
Sibling Classes
The purpose of Sibling Class is to discuss and understand what it means to become a big brother or sister. Children learn how to hold a baby and how to help with diapering and feeding. These soon-to-be big brothers and sisters may discuss the way they feel about the new arrival and have a chance to practice with dolls.  The class is free of charge.
Breastfeeding Classes
CCMH has the only breastfeeding resource center in the region and has been recognized by Unicef.  Certified lactation consultants provide education and support for breastfeeding mothers and their families.  Experience the benefits and joy of providing the very best feeding experience for you and your newborn.  This is a three hour class for expecting women and mothers of newborn babies (partners are welcome to attend). This class offers information and education to help make your experience with breastfeeding a successful one. The class is designed to discuss the benefits of breastfeeding as well as give practical information and teach proper breastfeeding techniques.
Support continues after discharge with an appointment to visit our Lactation Consultant.