Contact Us
MMG Gynecology and Obstetrics
102 NW 31st Street
Lawton, Oklahoma  73505
580.353.6790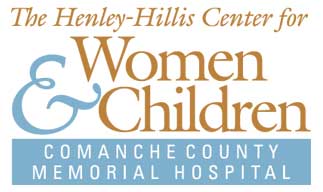 The staff at Comanche County Memorial Hospital's Infant Feeding Resource Center is here to support both the new parents and their baby. We will gladly help facilitate your feeding choice for your newborn, as well as assist you in any way possible to ensure that you have a wonderful birthing experience.
You will have access to International Board Certified Lactation Consultants who can help evaluate any prenatal concerns you may have. This support includes education for moms, dads, caregivers, and family members.
Once your baby is born, we offer continued breastfeeding support for mother and baby throughout the breastfeeding experience.
Postpartum appointments are availalbe for weight checks. These can be scheduled after discharge.
Appointments can be made as a self referral or by physician referral, Monday – Friday. 580.250.5253
Benefits of Breastfeeding Your Baby
The Infant Feeding Resource Center encourages our mothers to breastfeed. Numerous studies show important benefits for both you and your baby.
Benefits for Baby
50% decrease in ear infections
27% decrease of the onset of asthma
39% decrease in acquiring diabetes
19% decrease in childhood leukemias
36% decrease of sudden infant death syndrome (SIDS)
Benefits for Mothers
28% decrease in breast cancer
21% decrease in ovarian cancer
12% decrease of acquiring diabetes
Importance of bonding with your baby in the first hour
Studies show that the mother-child bond is critical for your baby's ongoing growth and development.
We are promoting skin-to-skin in the first hours and days of your baby's life to help the two of you get to know each other. Babies who are held skin-to-skin right after birth have more stable heart rates, temperatures and blood sugars. They breastfeed sooner, longer and more easily and even cry less.
This closeness is one of the best ways for you to learn about your baby and begin the important process of bonding and connecting with your newborn.